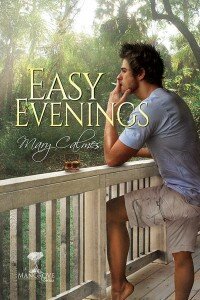 Title: Easy Evenings (Mangrove Stories #4)
Author: Mary Calmes and Greg Tremblay (Narrator)
Publisher: Dreamspinner Press
Release Date: November 18th 2015 (Book)
Release Date: December 10th 2015 (Audio)
Genre(s): M/M Contemporary Romance
Page Count: 77 pages
Length: 2 hrs and 24 mins
Reviewed by: Belen
Heat Level: 4 flames out of 5
Rating: 4.5 stars out of 5

Blurb:
Lazlo Maguire doesn't do relationships—he does transactions. Six months of the year, he's an expensive rent boy in Manhattan, and he moves so fast that settling down could not, would not, ever enter his mind… except for once. Britton Lassiter he meets man to man, not as hustler and mark, and it's too good to be true when the lawyer wants to keep Lazlo even if he has to share him with the job.

But Lazlo has his reasons to walk away from the man he's grown to love. The other six months of the year, he is laid-back Laz, a shopkeeper in the sleepy coastal town of Mangrove, Florida, where the artist he never allows himself to be in the Big Apple shines through. He lives for his time by the ocean, the place he hides his secrets and nurses his broken heart.

Then fate intervenes, and Laz gets the surprise of his life when he spies Britton in Mangrove—but it's not meant to be… not until Britton sees the change in him and wants to be a part of Laz's new life so that every evening can be easy… together. Hopefully the secrets that tore them apart won't come back to haunt them.

I'm so happy – why? Because I loved this installment in the Mangrove Stories series! Be advised – in my fangirling praise about to take place there may be some spoilers.

There is so much depth to the Lazlo Maguire character that melted my stony little heart.

When Lazlo meets Britton Lassiter at a party he knows he's met the man who will make him whole. It's even better that Britton accepts his life and doesn't make him feel less for it.
I was not a romantic. All that had been fucked out of me years ago as I'd allowed myself to be used for money, sometimes cruelly, sometimes painfully. But when Britton kissed me, whenever he kissed me, I felt like it was the first time and I was sparkly, shiny, and new. The difference was, I was a man, not a boy, on the receiving end.
Yes, Laz is a rent boy half the year, but that is just so he can take care of his mother and little sister. He's been doing it since his mother turned him out for tricks when he was fifteen. So when Britton asks Lazlo to give up his job and be with him only, Lazlo says no, but Britton doesn't allow him to explain why. It's just that Lazlo wouldn't give up his rent boy life for Britton because that, to him, would have been the height of selfishness, to do it for his own happiness at the expense of his mother and sister.
I coughed. "Well, see, back when I was younger, like fifteen, sixteen, my mom had me—" I put my hands over Katie's ears. "—turn tricks to support her 'cause she was sick, but not sick enough for us to get welfare or nothin', but—"
Britton is horrified when he learns of the reasons why Laz was selling himself. But all the pieces finally fall into place for him.
Spoiler

It is only when Lazlo is presented with the three year old daughter he never knew he had, that he's ready to turn his life inside out immediately. Because he has to be a good father.

"If you quit for me, what would you tell your mother or your sister? You'd have to explain that you wanted a different life, a simpler one, one where you couldn't afford to take care of them anymore because you wanted your own happiness, your own home, your own love."
It was way too much honesty, especially since Britton had hit the nail on the head. I couldn't stop whoring myself out for him because that would have been what I wanted in my dreams. And I would never allow him to keep me because I knew what a burden that was. But for Kitty… for her… I could stop in a second because she needed me, and that was not selfish in any way. I was a parent, and parents sacrificed everything for their kids, and in my case, my old life was not compatible with who I needed to be for her.

The line "I was a parent, and parents sacrificed everything for their kids…" was so fucking heartbreaking to me, because Laz's mother, who should have been that way, wasn't. And yet he's doing everything immediately to be that way for his daughter.
I loved this. I loved the feels, the sexy times, the interactions with all the characters we've gotten to know through the other stories…I just loved it all! Mary, you got me again! Right in the heart!


Greg Tremblay delivers a solid performance once again. Fans of his audio work on the series will not be disappointed, and if you haven't picked up one the audio for the Mangrove series, I highly recommend the audio – it just elevates the stories wonderfully.
RECOMMENDED!

Audible Link Author Link GoodReads

Advanced Review Copy
Copy generously provided by in exchange for an honest review.