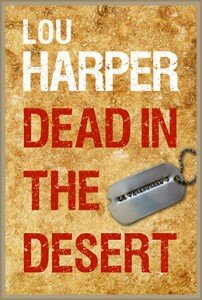 Title: Dead in the Desert
Author: Lou Harper
Publisher: Harper Books
Amazon:: Dead in the Desert (L.A. Paranormal)
Genre: Mystery
Length: 94 pages
Rating: 5+ stars out of 5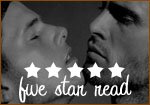 A Guest Review by Lloyd Meeker
Review Summary: Another wonderfully satisfying story from Lou Harper, featuring Leander Thorne and Jon Cooper. Highly recommended.
Blurb
Jon Cooper used to think he wanted a life free of complications, but that was before he got involved with his roommate, Leander. Jon knows that the only thing he can't lose is what he doesn't have, but where does that leave him?
Leander Thorne, on the other hand, is an easygoing bookworm, with an addiction to books and cooking shows, and a soft spot for Jon, despite Jon's grumpiness. He also happens to be a psychic specializing in finding lost pets and–more recently–lost people. He's good at it. Too good if you ask Jon.
Unsolved crimes, missing people and bodies buried in the Mojave Desert make Jon's and Leander's lives anything but uncomplicated. Jon is forced to dig into his soul and find a way to let go of his past if he wants to keep Leander.
Review
On the surface, Dead in the Desert, Lou Harper's latest installment in the story of Leander Thorne and Jon Cooper is a charming, well-wrought mystery adventure, but there's more to it than that. At a deeper level, it's a wise story about letting go and rebirth, much as a snake must shed its old skin to grow.
Harper combines these to create an intelligently-written story that will stay with you well after you're finished reading. At 100 pages, it may seem like a lightweight, but I promise you it's not. And I'm not saying that just because I'm in love with Leander Thorne.
This story features other characters introduced in the first Leander-Jon book, Dead in L.A., particularly LAPD Detective Lipkin, who in spite of his earlier cynicism about Leander's abilities, approaches Andy (Jon's pet name for Leander) to locate a body in the desert. To add to the work load, the estate attorney for a dead man hires Leander to locate Ethan, a young man who disappeared years ago. These two searches entwine, constituting the investigative mystery.
Andy likes to use photos or personal items to find what or who he's looking for, but when he picks up the only photo of Ethan available, Andy feels nothing. This disturbs him since even if a person is dead, Andy still gets some kind of hit from a photo. The reason for this anomaly raises a fascinating question about psychic ability that I can't discuss with you until you've read the story. It's clearly the product of Harper's thoughtful depth, and I'm impressed.
But Dead in the Desert is only partly about the mystery. The heart of the book is about Jon and Leander, and Jon's dilemma: show his love Leander and maybe lose him, or hold back until Leander gets tired of waiting and goes away all on his own. It's a no-win situation, and the perfect foundation for a bitter self-fulfilling prophecy.
In spite of his paralysis when it comes to acknowledging love, Jon is persistently loving and protective of Andy, which adds poignancy to his fear of Love with a capital L. In a touching moment, Andy is exhausted from his psychic efforts and asks Jon to lie down with him. Jon, who narrates the story, holds Andy as he falls asleep:
"I listened to his breathing slow, felt his chest rise and fall, and stayed awake, guarding against invisible monsters."
Now that's love.
Harper's writing is a delight. She describes herself as prickly and cynical on the surface, and an incorrigible romantic underneath. Kinda like Jon. She gives her characters depth and real charm — even Jon the premature curmudgeon, who has a penchant for broken metaphors like "rudderless sheep."
And Leander is charm personified. Did I mention I'm in love with Leander Thorne? Guileless, wise, good-hearted, generous, loving, sweet but never cloying. He disproves the theory often spouted by writing gurus that a character mustn't be "too good", or he won't have impact, or depth, or whatever the buzzword du jour happens to be.
In Dead in the Desert we get more important backstory about Leander, and more of Jon's story, too. Harper indicates on her website that she doesn't anticipate a long series featuring these two, but I hope she reconsiders. There's plenty of substance in the characters, in their relationship, and in the kind of work they get pulled into — plenty for several more stories. In the meantime, read this one. I strongly recommend it!