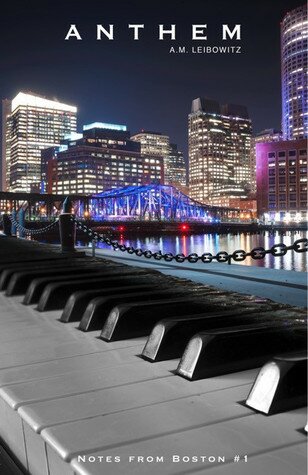 Title: Anthem (Notes From Boston #1)
Author: A.M. Leibowitz
Publisher: Supposed Crimes
Release Date: March 1, 2016
Genre(s): Contemporary Romance/Bisexual/Religion/Family
Page Count: 200
Reviewed by: LenaRibka
Heat Level: 3 flames out of 5
Rating: 4 stars out of 5

Blurb:
Trevor Davidson has everything going for him. He's just moved out on his own with three friends, and he's landed a job as music director at a large Boston church. He has high hopes for marrying his long-term girlfriend and settling into a comfortable, devout lifestyle.

Andre Cole has spent the past few years throwing himself into a dead-end job at a Cape Cod-based call center. When an opportunity to move back to Boston arises, Andre believes it will be the do-over he needs to put his past behind him.

A chance meeting in a club on New Year's Eve brings Trevor and Andre together for a brief but steamy encounter. Both assuming that's the end of it, they are unexpectedly thrown back into each other's lives when Trevor's church hires Andre for their website design. While Andre is content at first to move on, Trevor's conflicted feelings bubble over into his songwriting. Before he can stop it, his ode to Andre becomes an inadvertent Christian radio hit.

Unfortunately for Trevor, he isn't the only one who knows the song's hidden meaning. Someone has leaked the story and upended Trevor's life. In order to put the pieces back together, he needs to learn to be honest with his girlfriend, with Andre, and especially with himself.
How often do you come across a romance book that tells you a love story of two bisexual men? It was my first of this kind. I'm not going to warn you about a single hetero graphical sex scene in the book. We're not sexists.
The plot: 
Trevor Davidson is a Director of Music Ministry at a non-denominational church in Boston. He loves his job that is not very well-paid, but it gives him a feeling of a great inner satisfaction and a great possibility to do what he always wants to do- to write songs. Christian ones. (I had no idea that there are so many people who indeed love this music direction, that there is a big fan community with festivals and stars, and groupies!)
 
Trevor is one of them. Music, Christian music plays a big role in Trevor's life: besides his main occupation, he is a voice of a podcast of contemporary church music on a Christian radio and plays in a Christian band. If you imagined a religious fanatic straight away, I have to calm you down- Trevor is a normal guy.
 
He shares an apartment in Boston with 3 other guys, two of them are not-yet-famous musicians with their own band, and Nate, his former college roommate and his best friend. Well…with benefits, talking about "fooling around to let off a little steam between partners". Trevor's life seems to be settled: he knows that one day he will marry Marlie, his longtime on-and-off girlfriend, and he hopes that one day his biggest wish- to become a father- will come true. Someday. In the near future.  Not right now.  A firm commitment is what Marlie expects from his longtime boyfriend, and Trevor wants it too, but….so they fight AGAIN and their relationship is shortly on an OFF-mode AGAIN on a New Year's Eve. It is when he meets Andre Cole, an IT-Specialist, a widow since three years, who just has moved to Boston to leave his past behind and start a new life with a new job. It is alcohol, it is music, and a sudden attraction, and lust, and longing for something that he's missed in his life… that lead to a very short but very steam and intense… encounter in a gay bar's bathroom. Trevor's first BJ.
He gets in panic straightly after and flees from the bar, hoping that he will never ever see this attractive stranger again, but he can't forget him. And what a NORMAL musician would NORMALLY do if he can't put someone out of his head? He writes a song…
…Hold this moment
On my knees, sinking low
Can't describe it
Spilling over, letting go
Heal my spirit,
Make me real, make me whole…
He knows that it is about BJ, I know that it is about BJ, Pastor Bret doesn't. Or he pretends not to get it. He is sure that it is a very…spiritual love song to…God.
 
IT IS WHERE the story starts to be REALLY interesting, and it is where a steady lie of Trevor starts to fell apart…
 
There are many conflicts and happenings and intern struggling and suffering in this books, and yes, there are not just many main and secondary characters, but also a lot of detailed descriptions. Normally, when all these facts come together, the plot could easily appear overloaded, but it didn't have this effect on me HERE. I do not recall that it ever bothered me or that I became impatient during reading. Oh, well, I was impatient, because I wanted to know what would happen on the next page, and on the page after the next one, and then the page after…The author managed to keep my full attention up to the very end.
 
In spite of the fact that Trevor drove me up the wall in many situation with his insecurity and denying of his nature, with his stubbornness and fears, somehow I could understand WHY he was such conflicted. He had to make a very important decision that would concern not only himself and his future but also the fate of people around him, and it was not THAT easy.
 
I really enjoyed the writing of A. M. Leibowitz, it was flowing, refreshing and felt very real, EVERYTHING. Including sex scenes. And the ending too, maybe a bit stereotyped but even if I complain about, I can't imagine another ending for a MM Romance.
some marginal thoughts:
I have to be honest, I normally not a big fan of books where MCs are strong believers, because most of religious representatives in my favorite genres (as well as in a RL) are pretty much evil in the flesh themselves, and I don't have too much understanding for their statements. But ever since I have known Ije, one of my favorite female's priest,  and my dear GR friend, I know that religion could be different, and that there is another side of the Church. That a person could be deeply religious and that doesn't mean automatically less tolerant or less open towards LGBT society but quite the opposite. So yes, I found interesting how the author touched the topic of faiths here.
Anthem is a good plotted and well-paced novel, and a very recommended read from me to all gay fiction and gay romance fans.
Advance Review Copy
Galley copy of provided by the author in exchange of an honest review.