Title:
Author: Rick R. Reed
Cover Artist: Trace Edward Zaber
Publisher:
Amazon: The Ghost In Number 9
Genre: Paranormal M/M Romance
Length: 33 pages
Rating: 5 stars out of 5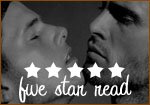 A Guest Review by Lloyd A. Meeker
Review Summary: A beautifully crafted story, perfectly paced, a very satisfying read—a closeted gay man's Christmas Carol.
Blurb
For Tony and Carter, room number 9 in the Galaxy Gold motel on Seattle's seedy Aurora Avenue is a refuge. There, the two young lovers have found a place to hide away from a world that would condemn them for their love. Within the darkened, summer-hot confines of room number 9, Carter and Tony can explore their love and lust for one another, free of the burdens of the outside world.
But room number 9 holds a terrible and tragic secret, one that dates back to the Galaxy Gold's opening back in 1962, when Seattle was hosting its World's Fair. There's a ghost in room number 9, and he has a message for Tony and Carter, a message about the consequences of shame and hiding love behind a closed motel room door.
Will Tony and Carter listen to the ghost's message and have the courage to bring their love out into the open? Or will this long-ago story, one eerily similar to Tony and Carter's, be ignored?
The answer awaits in room number 9…
Preamble
Before I get underway with my last review for JessieWave (sniffle) I want to say a big thank you to Wave, Aunt Lynn, and everyone else who made my relatively short participation here such a pleasure. It's been a wonderful year. Huge thank you to all of you who read what I had to say and engaged with me through comments or just a thoughtful moment on your own in quiet. Be well, and happy. I hope to see you again, somewhere around the M/M campus…
Review
The author might not agree with me that The Ghost in Number 9 is a kind of closeted gay man's Christmas Carol, and maybe it's just the season that makes me draw that connection. But I don't think that's all it is. When the spirit world intervenes to guide someone into a happier life in this world, it's hard not to see the similarities.
This story is like a miniature painting. In a story this length there is no room for the extraneous, and every sentence must do the work of many. Reed's skill shines in every detail, making this short story deep, balanced and satisfying. The writing is smooth as it is economical.
Carter hurries toward the Galaxy Gold Motel, where he will meet his married lover Tony for a lunch-hour tryst. From the first lines describing the dangerous traffic on Aurora Avenue, to a near collision with a kid on a bicycle, even Carter's interior dialog on his way to the motel room, Reed binds images and events into the heart of his story. It's masterful work.
Through his characters Reed shows his grasp of the psychology underlying this tale. Particularly poignant—perhaps especially for those of us who married and had a family before coming out—was his depiction of the tormented, deliberate stupidity of a married man in denial, not wanting to risk what he already has, wanting to be happy without connecting all the painful dots, terrified of the changes he can barely imagine he might have to make.
On a lighter note, you probably will not be surprised that in this Rick Reed story, someone's Boston Terrier makes a cameo appearance, like Hitchcock in his films…
Enjoy this story. Short as it is, it will stay with you for much longer than the time it takes to read. Highly recommended.