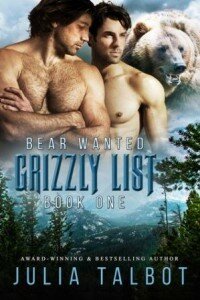 Title: Bear Wanted (The Grizzly List #1)
Author: Julia Talbot
Publisher: ARe Books
Release Date: July 1, 2015
Genre(s): Erotic Romance, Paranormal
Word Count: 20,147
Reviewed by: Belen
Heat Level: 4 flames out of 5
Rating: 4 stars out of 5

Blurb:
He always wanted a bear to keep him warm at night…
Lane knows what he wants in a lover, but hasn't been able to find the perfect bear of a man in his small Colorado hometown. So he turns to the Grizzly List, a regional personal ad service for bears and their lovers. He's not sure what to expect when he meets Fin, but what he gets might be his perfect man.
Bear shifter Fin has been looking for someone with whom to spend his days, nights, and winter hibernation. He's a happy guy, but needs someone who wants a big, burly, slightly dominant mate. When he meets Lane, Fin knows he's found what he needs, but will he be able to convince Lane that they're made for one another, in human form and bear?
Okay, so…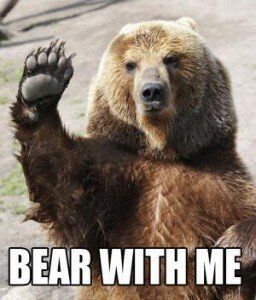 this was SO cute!!
What a fun story!
LANE is a graphic designer looking for love. He places an ad looking for a "bear"…
–Personal Ad in the Grizzly List Weekly–
Bear wanted for cute bottom. Looking for 30-40yo bear, ddf, kind but firm. Seeking companionship/ relationship. Want to cook for you, cuddle, and explore physical possibilities. Hairy a must, uncut a plus. Send photos and response to inbox 4125.
Lane gets back an answer from bear shifter and mystery writer, FINLEY, who, more than anything, wants a cub to cuddle with and pamper.
As soon as they meet Fin is captivated by Lane. As they get to know each other Fin begins to suspect that Lane isn't just the perfect man for him, but may just also be the perfect bear.
This was such a sweet, cute and hot novella. There were a lot of stereotypical "bear" things, but the relationship between Fin and Lane was sweet as honey.
Keep in mind this is an erotic romance and it doesn't disappoint in the heat department.
My only complaint is I wanted more. I would have liked to have seen how Lane handles being a shifter and hibernating with Fin for the winter. But as this is Book #1 in the new Grizzly List series so I hope Fin and Lane will make another appearance and we'll get to find out how things are going with them in the future.
Recommended!
Copy generously provided by ARe Books in exchange for an honest review.