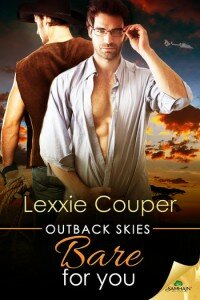 Title: Bare for You
Author: Lexxie Couper
Publisher: Samhain Publishing
Release Date: July 21, 2015
Genre(s): Contemporary
Page Count: 111
Reviewed by: Gigi
Heat Level: 4 flames out of 5
Rating: 3 stars out of 5
Blurb:

Not all cowboys ride horses.

Jeremy Craig is on the cusp of being named the deputy prime minister of Australia. Which means he's got to play his cards right and stay deep in the closet. Australia is a lot of things, but there's no way the country is ready for a gay prime minister. So far, it's been an easy ruse to maintain. Until he meets Ryan Taylor. Then all bets are off.

Ryan is sick of the Brokeback Mountain jokes. For starters, he's an Australian stockman, not an American cowboy. For another, he spends most of his working days alone in a helicopter, not on the back of a horse. As Wallaby Ridge's only contract heli-musterer, he gets to escape any small-town scorn high in the sky. He's happy up there. Lonely, but happy. Who needs passion and wild sexual pleasure in their life when they have the boundless skies of the Outback, right?

Then Jeremy Craig climbs into his chopper…

Warning: This book may change your opinion of politicians. It also contains scorching, no-holds-barred passion between two alpha men, one with a Ryan Gosling fetish and the other with a secret deeper than the ocean. Yes, it's that complicated.

With a cover this beautiful and a title like Bare for You, this book sounds pretty much like a slam-dunk M/M romance. But coming in at about 111 pages, the book wasn't able to deliver because of what was missing.
Ryan Taylor is a helicopter pilot (heli-musterer to those in OZ) living in the Outback. He is hired to fly Jeremy Craig, the Federal Minister of Arts and Culture, for five days during an official visit.
Jeremy is a gay man in the closet, thinking that coming out would ruin his political career and is hoping for a career advancement to Deputy Prime Minister. He is so deep in the closet that he dates and has sex with women and hasn't been with a man since he was nineteen.
Ryan is a happy-go-lucky pilot living in the Outback. He has good friends and a great job, but something is missing from his life and he knows it's a man to share it with.
When Ryan and Jeremy initially meet, it was almost comical listening to their inner monologues about each other. Lust smolders from their eyes and both felt an instant connection. There were even jolts up arms during the first handshake. Both tell their libidos to settle down since there is no room for being gay when you are a Prime Minister. Of course their libidos win and the two consummate their lust under the bright stars of the Outback.
Sounds pretty good, right? And it was! But, take into account that this was a five day trip. Actually shorter than that because Jeremy was called home early. These boys spent one night together and were willing to throw everything they had worked so hard for out the window in order to have one another. Pretty romantic, huh? But this was insta-love, pure and simple. The sex was hot and the emotions were flying, but it just seemed incredibly implausible for Jeremy to throw his beloved political career out the window after a one night stand. Again, the book was just too short to develop a solid, believable relationship between Jeremy and Ryan.
The part I disliked the most? There was no epilogue! And it needed one. Badly. So many things were left unanswered and the HFN ending was unfulfilling.
If this book had been fleshed out a bit more and included a conclusion to the story, I'd be all over it, recommending it to everyone. The characters were hot and sexy and very, very likable. But as the book is written, I cannot recommend it. It was just too short and felt incomplete.

 Author Link GoodReads

Advanced Review Copy
Advanced review copy of provided by via
Net Gallery
in exchange for an honest review.