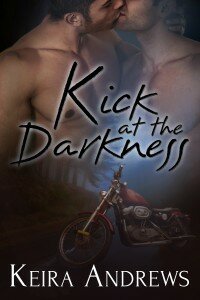 Title: Kick at the Darkness
Author: Keira Andrews
Publisher: KA Books
Release Date: May 28, 2015
Genre(s): Post-Apocalyptic/Shifters
Page Count: 265
Reviewed by: Gigi
Heat Level: 5 flames out of 5
Rating: 5+ stars out of 5
Blurb:

To live through the zombie apocalypse they have to survive each other first.

College freshman Parker Osborne is having the worst day ever. He humiliated himself trying to pick up a cute guy, he hasn't made any friends at school, and his stupidly hot jerk of a TA gave him a crappy grade on his paper. He's going to drop Adam Hawkins's film class and start fresh tomorrow after he's had a good sulk.

But Parker's about to find out what a bad day really looks like—if he can survive the night.

A virus is unleashed, transforming infected people into zombie-like killers. After these quick and deadly creepers swarm campus, Parker only escapes thanks to Adam swooping him onto the back of his trusty motorcycle. Now they're on the run—and stuck with each other.

When they're not bickering, they're fighting off the infected in a bloody battle for survival. Their only hope is to head east to Parker's family, but orphaned Adam has a secret he's not sure Parker will accept: he's a werewolf. Can they trust each other enough to find some light in these dark days?

Every once in awhile a book comes along that everyone is talking about but you just can't seem to pick up and actually read. This happened to me with because I'm not at all interested in reading books about gloom and doom and the end of the world. And shifter books need to be extraordinary (like Kendall McKenna's The Tameness of the Wolf series) or I just can't be bothered. But I decided to read this one since I am a big fan of Keira Andrews' work and every one of my GoodReads friends absolutely LOVED this. So, I got started… And didn't stop until late, late into the night until I finished it. I read the entire book in one sitting. Ms. Andrews kicked this one in the ass and destroyed every one of my preconceived notions about an apocalyptic book actually being romantic. This one is swoon worthy!
Parker Osborne is a freshman in collage at prestigious Stanford University, far from home and his best friends, and he's just gotten this first bad grade on a essay about an old movie. He is your typical stressed out overachiever who doesn't make time for much more than studying and never, ever receives anything below an A. When asking his professor to re-evaluate his grade proves fruitless, he is directed to her TA, Adam Hawkins, who is the one who read and graded his paper.
When Parker meets Adam, there is defiantly no love lost between the two. Adam calls Parker out for turning in a lackluster paper, hoping to skate by in an "Easy A" class. When Parker in unable to get his grade changed, he leaves in a huff. What both men don't know is that they are about to join forces in the adventure of a lifetime, relying on one another for their very lives.
Events take a horrible turn for the worse and people are dying left and right. Parker and Adam had a chance meeting again when the shit gets real and they are about to be overtaken by a horde of zombies. Without thought, Adam and Parker run, with Adam encouraging Parker to keep up. Parker ends up losing Adam, but Adam saves the day by pulling up on a Harley motorcycle and snatching Parker from the clutches of death. And so begins the adventure of a lifetime for them both.
One thing that struck me most while reading this tale was just how funny Parker was. They are running for their very lives but Parker can't seem to stop his smart cracks about any and every thing that catches his fancy. He starts out as a sarcastic, scared kid, always looking to Adam to save his skin, but the progression of his maturity is wonderful to watch from beginning to end. And watching Adam begin to open up to Parker, exposing his secrets and sharing his sorrows was one of the things that made this story so wonderful and beautiful. The relationship these two form is deep and strong and incredibly loving and that is what sold me, hook, line and sinker. They shared their fear, their longing and their passion and held absolutely nothing back.
So, who'd have thought a zombie apocalypse book with an anti-social werewolf and a snotty collage freshman would be such a fabulous read? Certainly not me. But it is that good. And you should RUN to your favorite bookseller and start reading this one ASAP. You will be delighted, I guarantee it. HIGHLY, HIGHLY recommended. This and and are my three favorite books for 2015 so far. I can't wait to re-read this one on a crummy day when I need a little comfort from a beloved book.