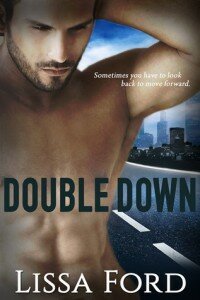 Title: Double Down (Doubleback #2)
Author: Lissa Ford
Publisher: Lissa Ford Books
Release Date: June 21, 2015
Genre(s): Contemporary/Mystery
Page Count: 142
Reviewed by: Gigi
Heat Level: 5 flames out of 5
Rating: 5 stars out of 5
Blurb:

After surviving a deadly attack by a psychopathic killer, homicide detective Rowan Muir is ready to take his relationship with ex-deputy sheriff and former ex-boyfriend Jude Anderson to the next level. Trouble is, Jude is happy with going slow. As in glacial. And, fair enough, their previous attempt as a couple wasn't exactly smooth sailing. It took murder and the volcanic attraction between them for both men to set old grievances aside and try once more.

But the past rears its ugly head again when Rowan's drug-addicted brother goes missing. Rowan is summoned home and is immediately mired in family dysfunction better seen in a rear-view mirror. When Jude agrees to help Rowan investigate his stepbrother's disappearance, Rowan fears his fragile relationship with Jude won't survive the stress.

Being back in his hometown dredges up old fears, a lot of baggage, and murder allegations. Soon Rowan has to decide if he is going to double down on his relationship with Jude, or if it's wiser to pick up his chips and split for good.

I loved , the first book about the smoking hot duo Jude and Rowan, so I was particularly excited for the sequel . The first book left us with a lovely HFN but I'm a HEA girl, so I ate this book up in one sitting.
All is not roses and sunshine in Jude and Rowan's lives six weeks after they renewed their romance and were almost killed by a homicidal manic. Rowan is still healing from his arrow through the shoulder and both men have inner dialogues going, saying the same thing. "I don't want to seem too needy and clingy and scare him off." "I won't be able to survive another break-up, so I'd better keep a little distance." *sigh* Silly boys. Communication is key!
In this book, we learn all about Rowan's angst ridden, lonely childhood and his good-for-nothing step brother, Shane and step-mother, Sunny. Sunny calls Rowan in hysterics, telling him that she thinks her son has been murdered. Rowan brushes it off as his step-mother's usual drama, but Jude talks him into visiting and having a look at the situation. Once again Jude and Rowan are in the middle of a mystery, unofficially this time since Rowan is on medical leave and Jude is no longer in law enforcement. Lots of angst and drama prevail!
I loved the progression of the relationship between these men and the sex was as HOT as ever. The scene in front of the fireplace? Let me just say, make sure you have a fan handy. Melt-the-paint-off-the-walls hot. The author mentions at the end of the book that there is more of the sinfully delicious duo yet to come. I'm tickled pink and anxiously await the third book!
HIGHLY recommended. Make sure you read first, if you haven't already or you will be lost. This is not a stand-alone.
Advanced Review Copy
Advanced review copy of provided by
the author
in exchange for an honest review.