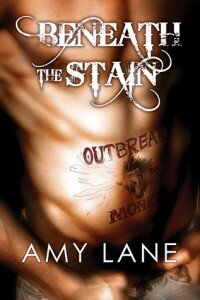 Title: Beneath the Stain
Author: Amy Lane
Publisher: Dreamspinner Press
Release Date: October 17, 2014
Genre(s): Contemporary
Page Count: 350
Reviewed by: Jewel
Heat Level: 5 flames out of 5
Rating: 5+ stars out of 5
Blurb:

In a town as small as Tyson, CA, everybody knew the four brothers with the four different fathers– and their penchant for making good music when they weren't getting into trouble. For Mackey Sanders, playing in Outbreak Monkey with his brothers and their friends—especially Grant Adams–made Tyson bearable. But Grant has plans for getting Mackey and the Sanders boys out of Tyson, even if that means staying behind.

Between the heartbreak of leaving Grant and the terrifying, glamorous life of rock stardom, Mackey is adrift and sinking fast. When he's hit rock bottom, Trav Ford shows up, courtesy of their record company and a producer who wants to see what Mackey can do if he doesn't flame out first. But cleaning up his act means coming clean about Grant, and that's not easy to do or say. Mackey might make it with Trav's help–but Trav's not sure he's going to survive falling in love with Mackey.

Mackey James Sanders comes with a whole lot of messy, painful baggage, and law-and-order Trav doesn't do messy or painful. And just when Trav thinks they may have mastered every demon in Mackey's past, the biggest, baddest demon of all comes knocking.

This book thoroughly wrecked me, and I don't regret a moment. I debated on whether or not I wanted to read it, even though I bought the book a few months ago, because I knew it would lay waste to my heart. It did that, but more, I found the journey so worth the pain. There aren't many writers that can write light and fluffy and deep and angsty and everything in between and do it all well. Amy Lane is one who can. I've often seen her referred to as The Queen of Angst, and now I know why.
follows the life of Mackey Sanders as he finds his way in life through music. He's brilliant and focused. He's a force of nature and everything he feels, he feels big. Just being around Mackey is to know greatness. But Mackey is also gay and closeted and in his small, backwater hometown, he has to stay closeted. So he hides an essential part of himself because, above all, he's a survivor, until he becomes his own worst enemy. When his band, Outbreak Monkey, gets signed by a major record label, he discovers that suddenly finding fame isn't easy, especially when dealing with a heartbreak he can't even share. So, for Mackey Sanders, his dream also fed his nightmare and it nearly killed him.
Fourteen months after getting signed, Outbreak Monkey finds themselves with a new manager, Trav Ford, who insists that Mackey clean himself up before his drug use kills him. Mackey has spent the past year drowning himself in alcohol, Xanax and cocaine. Anything to dull the pain of losing Grant and to help him deal with the stress of fame that he was wholly unprepared for. Watching him self-destruct was heart breaking. And watching him struggle with being clean wasn't easy, either. He's a determined young man, though, and with Trav, he finds someone who really sees him and gets him and Mackey finally is able to see a way out of his darkness.
Trav Ford is former military. He's ordered and highly organized and has excellent cat herding skills. There are some aspects of Trav that I really resonated with. He's not a creative person and he finds himself drawn to creative people and he is able to really see and experience the beauty of the world through them. I'm very much like that, myself. Mackey is different, though. Through his attraction, and more, to Mackey, Trav finds himself out of his depth. Never has there been anyone that brought out emotion in him like Mackey has. He fights it, because Mackey is so much younger than him and because Mackey isn't in a healthy mental state. But when Mackey decides he wants something – or someone – there's no living in denial.
But before they can really be strong and whole, Mackey has to face his demons. Bringing out in the open why he wanted to lose himself in drugs and alcohol and finally allow himself to live in the open is a start. But he has to face it all head on before he can really move on. So, even after he completes rehab and learns to live his life clean, don't expect things to go smoothly. Tyson, CA doesn't go quietly into the night and Mackey eventually has to face the town and the people he left behind. And when that happens, make sure you have a full box of tissues and something comforting around.
I loved many of the supporting characters, too. Kell took me longer to warm to, because he was such an asshole for quite a while. But he does find his way out of that attitude, eventually, and he's very protective of Mackey.
Jefferson and Stevie are inseparable and often seem to share a brain. They share everything, including Sheila, whom I loved. She knows how to handle people and she is a fine addition to the band's small circle of friends. I would love to know more about Jefferson and Stevie, though. They're quite mysterious.
And, of course, Grant, whom I really wanted to hate for deserting Mackey like he did, but I just couldn't. He was a young man under a lot of pressure to be a certain thing, and he wasn't strong enough to break away. That really is a shame and heart breaking at the same time. Life is too short, people, to live someone else's version of it.
I highly recommend , but be ready for a deeply painful journey on the road to the HEA. It's worth it.