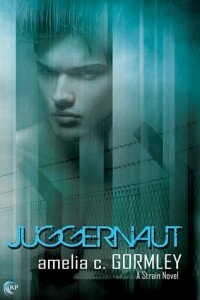 Title: Juggernaut
Author: Amelia C. Gormley
Publisher: Riptide Publishing
Release Date: August 10, 2015
Genre(s): Science Fiction
Page Count: 378
Reviewed by: Brooklyn
Heat Level: 3 flames out of 5
Rating: 4 stars out of 5
Blurb:

They helped destroy the world. Now they have to survive the new one.

For rentboy Nico Fernández, it's a simple job: seduce a presidential advisor to help cement approval to launch Project Juggernaut. He's done similar work for General Logan McClosky before, and manipulating people for his favorite client beats the hell out of being trafficked for slave wages in some corporate brothel.

Zach Houtman feels called to work with the most vulnerable outcasts of society. But his father, the Reverend Maurice Houtman, insists that Zach work for him instead as he runs for Senate. Zach reluctantly agrees, but is horrified to see his father leave behind Christ's mandate of love and mercy to preach malicious zealotry and violence instead. Zach even starts to suspect his father is working with fundamentalist terrorists.

When Project Juggernaut accidentally unleashes a deadly plague that claims billions of lives, Nico and Zach are thrown together, each bearing a burden of guilt. With only each other for safety and solace, they must make their way through a new world, one where the handful of people left alive are willing to do anything—and kill anyone—to survive.

This book is a prequel to Strain. It takes place years before and explains how the virus began. Amelia's idea and development of this story just astounds me. Biowarfare gone horrifically wrong. And now the world has been thrown into an apocalyptic state. The virus has mutated and now exists in three separate strains, two of them horrifically fatal. Supplies are limited and rationed. Marshall-law has been implemented. People have been quarantined if they have survived. Humanity has become endangered.
And Nico and Zach, one infected with the original strain and one uninfected have been thrown together to survive.
They make it to the refugee camp in Colorado, but because of his infected state, Nico knows he'll never make it past quarantine to the Clean Zone. And every day he stays with Zach, he's putting him in danger. So with a breaking heart, he walks away and leaves him in quarantine. OMG! I almost cried at that scene. It was so heartbreaking!
After almost a year, Nico returns with the rest of the Juggernauts to overthrow the government that caused all the trouble in the first place. But when the government tries to retaliate against the Jugs and several get injured, Nico's fears return. Once again, with a heavy heart, Nico walks away from Zach, leaving him safe in the Clean Zone.
This is most definitely not a HEA or a HFN but without revealing the spoiler (which you already know if you've read Strain) you are given a morsel of hope that Nico and Zach can overcome the issues keeping them apart.
There is so much more to this story than just a romance. The sci-fi element plays a huge role in this story and if you love sci-fi, then this book and the series will be a very entertaining read. I stayed on the edge of my seat. The fear and hopelessness of their future consumed me at times. But I was thankful for that little spark of hope at the end that things would get better.

Buy Link Author Link GoodReads