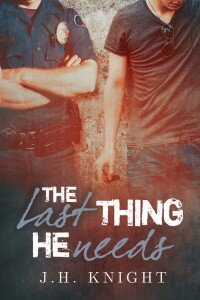 Title: The Last Thing He Needs
Author: J.H. Knight
Publisher: Dreamspinner
Release Date: July 27, 2014
Genre(s): Contemporary/Friends-to-Lovers/Law Enforcement
Page Count: 220
Reviewed by: Gigi
Heat Level: 5 flames out of 5
Rating: 5+ stars out of 5
Blurb:

Tommy O'Shea is raising his seven younger brothers and sisters without any help from his drug abusing father and stepmother. Since he was fifteen years old, he's managed to keep the children fed and out of foster care. It takes up every ounce of his energy and the last thing he needs is romance complicating his life further.

Rookie cop Bobby McAlister doesn't belong in Tommy's harsh world, but Tommy can't push him out. As their unlikely friendship turns into a tentative relationship, they weather the daily storm of Tommy's life with a lot of laughs and more than a few arguments.

Tommy isn't used to trusting outsiders, and he's never asked for help in his life. But when a tragedy strikes the O'Shea family and threatens everything he's fought for, he'll have to learn to do both to recover from the brutal hit.
Re-read June 2015
The second read gets ALL the stars! Every single one. 5 just aren't enough to rate this incredible story about these incredible people. Perfection.
Original Review July 30, 2014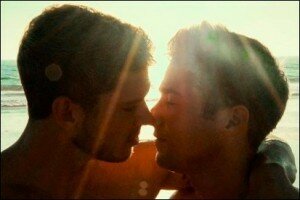 Fucking spectacular! 5 stars, favorites shelf and my own personal pinnacle, the fuck yeah, 5+ stars shelf where only the best of the best in M/M romance fiction reside. Holy shit, I loved this book!
This is the story of a good, good man named Tommy O'Shea. He doesn't realize just how good he is until the end of the book, so the story centers around all the good, good people who enter his life and work to convince him just how good and pure and self sacrificing he is. He needs a lot of convincing! But with Tommy's former high school friend, Police Officer Bobby McAlister leading the troops, Bobby gets the job done and it is spectacular to watch unfold.
I've no doubt Tommy and Bobby's pairing will be on top 10 lists for 2014 and will be one of the pairs that will be talked about for years to come, followed by a sweet *sigh* by M/M romance fans every where. They were delightful together. It isn't rare for me to cry while reading a book, but I cried during the first, "I love you," and during one of the more touching love scenes, and that is unusual for me. I'm not usually that entwined with the characters. That is really what makes a good book a fuck yeah, 5+ stars book for me. [book:The Last Thing He Needs|22594999] deserves ALL the stars!
HIGHLY RECOMMENDED!!!!!!! STOP. DROP. AND READ IT NOW! Prepare for the warm fuzzies to hit you FULL FORCE. Bobby will make your heart sing and Tommy will make you believe in humanity in this fucked up world.
BONUS: When you are done with The Last Thing He Needs, head over the J.K. Knight's website for a free short story with Tommy and Bobby called Everything He Needs.
Below is a note I wrote before I finished the book. I thought I'd leave it. Just 'cuz.
July 29, 2014
I'm home and ready to finish the book. (And I'm NOT stopping until I finish, no matter how tired I am!)
Since I'm at 40% (Tommy is just on his way to the station to pick up Colleen) I have had a lot of time to think about the book today. I came up with a scenario of how I think the rest of the book will pan out. I thought it would be fun to see how close I come. 🙂
Spoiler

Cal and Cheryl end up dead and the state comes after the kids, thinking 7 is too many for Tommy to handle on his own, to place them in foster care. Bobby to the rescue! He steps in, with help from his mother (remember how she was bummed out at the thought at never having grandchildren?) and the 3 adults take over the brood and convince the state to let the kids stay together. I would hope there would be some kind of angst with Tommy accepting Bobby's help, but I'm not sure how that would play out. But I hope it's good and juicy!!