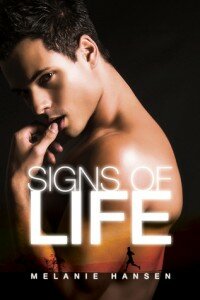 Title: Signs of Life (Resilient Love Story #2)
Author: Melanie Hansen
Publisher: Dreamspinner Press
Release Date: September 28th 2015
Genre(s): Contemporary
Page Count: 234 pages
Reviewed by: Lili
Heat Level: 4.5 flames out of 5
Rating: 5 Stars out of 5
Blurb:
Successful lawyer Jeremy Speer has it all—a loving husband, a beautiful home, and a cherished dream that's about to become reality. He's learned not to take happiness for granted, meeting the challenges of life and love head-on with unwavering commitment and fierce devotion. A series of tragic events leave Jeremy shattered, adrift on a sea of unimaginable pain. He's able to piece his life back together, but instead of embracing it, he merely exists, using isolation and punishing physical exertion to keep the world at bay.

High school teacher Kai Daniels has a heart for at-risk kids—he was one himself, and a teenage brush with the law and some troubled years behind bars left him scarred inside and out. With courage, hard work, and the support of friends, he's built a fulfilling life that leaves no time for a relationship.

An intense encounter with Kai at a gay club ignites a spark in Jeremy that he thought was extinguished forever, but he's unwilling to destroy the fragile peace he's managed to create, and he leaves Kai humiliated and disappointed. Things should have ended there, but a bizarre occurrence brings the two together in a way neither of them expected.

Signs of Life by Melanie Hansen is the story of two men who find each other after overcoming loss and life's hardships. Jeremy, who hit rock after the death of his husband and child. Kai, who was born into a family of drug dealers and was forced to be a mule from a young age.
After loving the first book in the Resilient Love Story series, I was eager to get my hands on this story. I knew from the blurb this book would be at some points heartbreaking, but I was still not prepared for what was in store. It was rough- like ugly crying rough. I was kind of afraid that was setting the tone for the rest of the book, but fortunately, the book did lighten up as it progressed.
What I loved:
*The main characters. I loved Jeremy and Kai's strength and courage.
*The supporting cast of characters. It was great to see Jase from book 1, and a pleasure to meet Jeremy's friend Loren. They were there for Jeremy and Kai through thick and thin.
*The sex. They had great chemistry and the dirty talk was an added bonus.
*Great pace. Once I started last night, I couldn't put it down. I stayed up all night reading it.
*Character development.
*The angst.
*It's told from a dual POV.
*The epilogue.
Negatives… nothing really stuck out at me and I actually enjoyed this book more than the first one series (I gave that one 4 stars).
Overall, this was a 5-star read for me. I love stories where characters find the strength and courage to persevere, and Melanie Hansen delivered that in spades here. I cannot wait for Loren's book!

Author Link
GoodReads