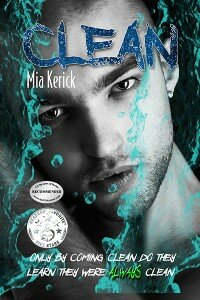 Title: Clean
Author: Mia Kerick
Publisher: Young Dudes Publishing
Release Date: December 1st 2015
Genre(s): Young Adult
Page Count: 2509 Kindle Locations
Reviewed by: Lili
Heat Level: 2 flames out of 5
Rating: 4.5 stars out of 5
Blurb:
High school senior Lanny Keating has it all. A three-sport athlete at Lauserville High School looking at a college football scholarship, with a supportive family, stellar grades, boy band good looks… until the fateful day when it all falls apart.

Seventeen-year-old Trevor Ladd has always been a publicly declared zero and the high school badboy. Abandoned by his mother and sexually abused by his legal guardian, Trevor sets his sights on mere survival.

Lanny seeks out Trevor's companionship to avoid his shattered home life. Unwilling to share their personal experiences of pain, the boys explore ways to escape, leading them into sexual experimentation, and the abuse of illegal drugs and alcohol. Their mutual suffering creates a lasting bond of friendship and love.

When the time finally comes to get clean and sober, or flunk out of high school, only one of the boys will graduate, while the other spirals downward into addiction.

Will Lanny and Trevor find the strength to battle their demons of mind-altering substances as well as emotional vulnerability?

Clean takes the reader on a gritty trip into the real and raw world of teenage substance abuse.

Clean by Mia Kerick is a gritty story of teenage substance abuse. Trevor and Lanny are both living their own private hells and seek solace by experimenting with drugs and sexual release.

I have to admit I had a hard time with the first half of this book. Not because the writing was bad, but because it was just so freakin' sad. As someone who hated going home as a kid and making bad decisions in my late teens/early twenties- I found this book incredibly difficult to read at times. Reading their decline and hopelessness just made my heart hurt. I almost took a break to read a fluffy story and then come back to it. I couldn't do it, though- I had to see their story through. Luckily this book took a hopeful turn at just past the 60% mark.

At that point, their healing begins to take place. I love how Mia Kerick took her time through this part of the story- it needed to not be rushed and thankfully it wasn't. We really get a sense of self growth and their healing felt real. I could tell there was research done when it came to the steps done in rehab. I also felt that it was well done that Trevor and Lanny didn't
Spoiler

immediately jump into a relationship after Lanny got out of rehab.
As far as sexual content, there is some but it's not heavy with it. There is one scene towards the end that is more explicit but I felt it was appropriate for the story.
Overall, this was a 4.5 Star read for me and I definitely recommend it. It put me through the ringer- I felt it all. I was angry, frustrated, sad, but at the end I was filled with hope.

Author Link
GoodReads
Advanced Review Copy
ARC kindly provided by
Mia Kerick
for an honest review.
Cover for the book to come on November 16th, 2015.