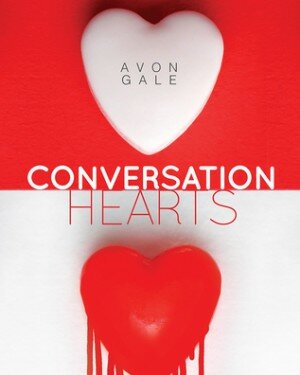 Title: Conversation Hearts
Author: Avon Gale
Publisher: Dreamspinner Press LLC
Release Date: February 10th 2016
Genre(s): Contemporary
Page Count: 31 pages
Reviewed by: Belen
Heat Level: 4 flames out of 5
Rating: 4.7 stars out of 5
Blurb:

It's Valentine's Day, and grad student—and male escort—Levi Barron expects to spend his evening with a client who's paying him for his services in bed… not an assassin who needs to borrow the view from his hotel room in the morning.

With nothing to do but endure the company of his unwanted guest, Levi and the assassin, Sinjin, spend some time bonding over HGTV, minibar beverages, Flannery O'Connor short stories, terrible Valentine's candy, and the necessity of lying about their jobs.

Their evening takes an unexpected turn when they decide to indulge in their mutual attraction, and in the morning Levi doesn't know if he's spent the night with a hired killer or a hydraulic engineer with a very specific fantasy. Either way, the two have enough chemistry—in and out of bed—that Levi isn't sure one night with Sinjin will be enough.

And a message left in candy suggests the feeling is mutual.

Okay, so…the blurb literally tells you the whole story so you may be thinking – if I know what happens, why should I read this?

In my opinion, you should read this because it's super funny, really sexy and very well done for such a short story. Kudos to you Avon Gale!
My only wish? I really want this turned into a full length novel. I really want to see if Sinjin and Levi can be together. Oh, and I want a HEA, please.



 Amazon Global Author Link GoodReads More Author Reviews

Advanced Review Copy
Galley copy of provided by the author, via Dreamspinner Press in exchange of an honest review.