Title: Midwinter Night's Dream (Unwrapping #2)
Author: Eli Easton
Publisher: Pinkerton Road
Release Date: November 25, 2015
Genre(s): Contemporary, MM Romance, Fantasy
Page Count: 122
Gay Book Reviews is pleased to reveal the cover of Eli Easton's , the second book in the fantastic series. Cover designed by Reese Dante:

Blurb – Midwinter
Micah is the hippest, most chill guy on campus. But when he gets the hottest kiss of his life from a cute guy during a game of 'spin the bottle', Micah's cool turns into a puddle of anxious goo. Sure, Micah's always been a little bi-curious, but he never thought he'd pursue a guy, much less a guy who doesn't seem to be interested in getting caught.

Leo is passionate about two things: gay rights activism and acting. He stays focused and in control, and he never, ever, dates straight guys. When a chance spin of a bottle at a party has him locking lips with Micah Springfield, president of the Delts, dread-headed, serial-dating, straight Micah, Leo is determined to forget about it, no matter how incendiary the sparks or how gorgeous Micah may be.

Leo has bigger problems. His senior project is directing Shakespeare's Midsummer Night's Dream just before the Christmas break. When his venue cancels at the last minute, Micah offers the use of his parent's barn in rural Pennsylvania. Leo's play may be saved, but what about his heart? Between Micah's sweet lips, his family's welcoming arms, and a devious bulldog who is determined to play Puck, Leo may find himself falling under the spell of Christmas magic.
Excerpt
Micah
"I predict that tonight is the night Micah Springfield finally falls in love. And the magic eight ball says…" Sloane shook the black paperweight with vigor and held it up. "The spirits agree! Ca-ching!"
I was squeezing my long dreads with a towel to dry them. I made a pfft sound. "Oh yeah? Well, my magic eight balls say: 'Odds are against it.'"
Sloane waggled his finger at me. "See! That just proves it. Because you always have to say something like that hours before you fall into the abyss. It's the Rule of Famous Last Words."
"You're goin' out with that theater chick, right?" Hank asked. My baby brother was slouched all over my bed, as usual, paying half-assed attention to the conversation as he read on the tablet Mom and Dad had gotten him for his birthday. It was probably some book on Eastern Philosophy. My butch-looking, muscle-bound baby bro was a regular Joseph Campbell.
"Yeah. Her name is Yasmine." I said.
"Like I said, the theater chick. She's hot."
The lack of any real enthusiasm in his voice saved him from having the magic eight ball lobbed at his head. Still, Sloane made a face. "Excuse me? Beloved?"
Hank glanced up at his boyfriend and looked sheepish. "I mean… for a girl. If you're into that sort of thing. Which I'm not."
"No fighting or making out in my room. House rules," I reminded them with my I-mean-it voice. Because spontaneous eruptions of either, or both, were always a risk when Sloane and Hank were in the same room in the Delta Sigma Phi house. "And yes, Yasmine is hot. She's also very nice."
It was only a little bit strategic when I started up my blow dryer, cutting off further conversation.
Honestly, I was over how much time the dreads took to maintain. They'd gotten so long, they were almost down to my waist. They looked totally rad. And at this point, I'd had them so long, they were part of who I was—Micah, the guy with the dreads. I resisted cutting them off because, fuck it, I didn't want to look like everybody else. And people more or less knew where I was coming from before I ever opened my mouth. That liberal, hippy guy. And it was true, so it saved a lot of energy on my part. But the dreads were a pain in the ass to dry.
I was only wearing a towel, and my eyes roamed over my pale chest in the mirror while my hands were on auto-pilot doing the hair. Yasmine Armand. She was bi-racial and had beautiful carmel-colored skin, green eyes, and a light brown fro with braids. She was tall and slender, graceful-looking. She liked to wear African influenced clothes and jewelry, especially long tie-dyed skirts. And she was artsy. She was a junior majoring in Theater Arts.
She was, in other words, exactly my type.
This was our first actual date, but she'd been interested in me for months. She'd finally gotten tired of waiting for me to ask her out and invited me to a party tonight. I let girls chase me. I didn't get worked up about much of anything, except, maybe, stuff that related to my frat. I was president of the Delts, and the house was important to me. But otherwise, life is too short, you know? I like a girl in my bed as much as the next guy, but drama of any size, shape, or form—that I can do without. Besides, why expel effort when you don't have to? Women's lib, man. Let 'em fly the flag, pay their own way, show their nipples, have boy toys, and do the heavy lifting when it comes to relationships. I was a hundred percent down with all that.
Behind me in the mirror, I saw Sloane wander over to my bed and flop down beside Hank. Hank looked up from his tablet and they stared into each other's eyes. I could feel the sexual tension charge the air, so thick it nearly short-circuited my hair dryer. Oh for fuck's sake.
I shut off the dryer long enough to say, "Hey! No making out in my room."
Without a word, Sloane and Hank got up, their eyes already glazed over with lust. I laughed as the door slammed behind them.
"Don't do anything I wouldn't do," I chuckled to my reflection.
My humor faded as a familiar pain burned inside my body. It was below my heart and above my gut, in the Solar Plexus Chakra. I didn't have a name for that pain. I wasn't jealous of Sloane and Hank. They were so perfect together they were like the world balanced on the head of a pin. And yes, there'd been a time when I'd sort of dug Sloane myself, thought about maybe experimenting a little on the gay side with him. But I was way over that. Maybe that ache was regret. I was never gonna have a union like Sloane and Hank's.
Yeah, yeah. I know all about the power of positive thinking. But there's also accepting yourself, you feel me? Knowing your path. I'm a child of the air, a dandelion puff destined to be spread far and wide, a rolling stone. There's power in union, but there's power in freedom too, getting to know lots of people, spreading the love around. Just because you occasionally feel a longing for something, or envy it, doesn't mean it would be right for you.
I finished my hair and turned to get a shirt. That's when I noticed the magic eight ball sitting in the middle of my bed, all ominous like. Sloane's voice echoed in my head: Famous last words.
I chuckled at the whisper of magic in the room. Imagination, man. Imagination kicked ass.
Author Bio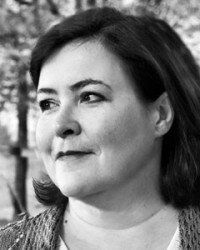 Having been, at various times, and under different names, a minister's daughter, a computer programmer, the author of metaphysical thrillers, an organic farmer and a profound sleeper, Eli is happily embarking on yet another incarnation as a m/m romance author.
As an avid reader of such, she is tinkled pink when an author manages to combine literary merit, vast stores of humor, melting hotness and eye-dabbing sweetness into one story. She promises to strive to achieve most of that most of the time. She currently lives on a farm in Pennsylvania with her husband, three bulldogs, three cows and six chickens. All of them (except for the husband) are female, hence explaining the naked men that have taken up residence in her latest writing.
Eli currently publishes with Dreamspinner Press and has a few self-pubbed titles as well.
She also publishes thrillers under Jane Jensen.

Win a $10 Amazon Gift Card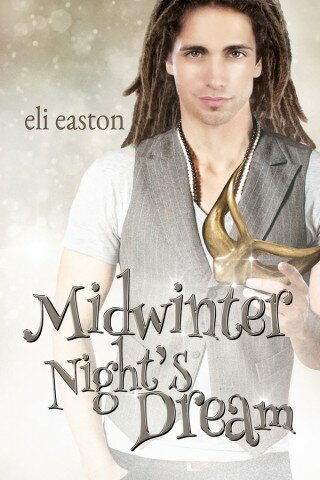 Eli Easton is giving away a $10 Amazon gift card to one lucky winner who is excited for the cover reveal and release of A Midwinter Night's Dream.
CONGRATULATIONS Didi, winner of $10 Amazon gift card!