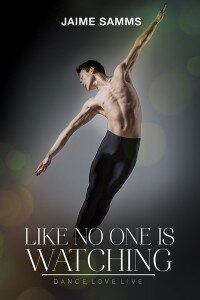 Title: Like No One is Watching
Author: Jaime Samms
Publisher: Dreamspinner Press
Release Date: November 11, 2015
Genre(s): Contemporary/Performing Arts
Page Count: 154
Reviewed by: Gigi
Heat Level: 3 flames out of 5
Rating: 2 stars out of 5
Blurb:

Dusty has finally landed a job he thinks he'll be able to keep long-term, even with his broken brain and bum knee. He didn't anticipate that cleaning a dance studio would reawaken his yearning to dance—even though he is no longer capable—or that meeting the studio's director would rouse his dormant libido. Or his sleeping heart.

Conrad thinks his life is finally complete with his successful dance studio and a steady stream of students. When Dusty arrives, he rediscovers his thirst for a man who will let him hand over control and give him the undivided attention he's never had. The trouble is, Dusty isn't sure he's worthy of the studio director's submission.

To make their relationship work, Dusty will have to trust his ability to dominate the powerful and beautiful dancer, and Conrad will have to stop talking long enough to hear Dusty's promises.
Oh, this was a disappointing book for me. It was really, really good at the beginning, starting off with a hot-as-hell domineering blow job and declarations of mutual attraction, but it quickly went south with silly misunderstandings and the halt of the sex.
Dusty is a high school dropout with terrible self-esteem. He works as a janitor at a dance studio run by ex-dancer Conrad, who has self-esteem issues as well. Both men had difficult upbringing's, Dusty in foster care and Conrad with rich, non-present parents and the death of his twin sister. The two men actually go at each other in a fight where they both spurt out their hardships to one another, which sounds like a pity party of epic proportions, especially since they were fighting about it instead of comforting one another. I hated that part and unfortunately, that was where almost all Dusty and Conrad's back story came from.
The side story of Dusty finding his "dance" once again was a bit far-fetched but I enjoyed seeing him encourage a young Eliza, who is a talented dancer but incredibly shy and lacks confidence.
The most disappointing thing about this book was the hope and promise of heated power-exchange sex and then the lack of it. The boys spent most of this book fighting and ignoring each other, not in bed exploring their sexual dynamic. Another big problem for me was the lack of a HEA and a very weak, at best, HFN. The ending was so abrupt that I thought I had a defective copy of the book! But the last 10% of is a setup for the next book in the series featuring two other characters at the dance studio.
I cannot recommend this book because of all it's shortcomings and lack of a strong HFN. If the next book in the series continues Dusty and Conrad's journey, I may change my review, but there was so much promise here and it is always extra disappointing when that promise falls flat.
FWIW, LOVE the cover! Bonus points for Aaron Anderson's delightful creation.
Advance Review Copy
Galley copy of provided by in exchange of an honest review.