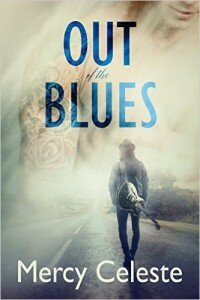 Title: Out of the Blues
Author: Mercy Celeste
Publisher: MJC Press
Release Date: November 10, 2015
Genre(s): Contemporary/Hurt/Healing/Comfort/GFY/OFY
Page Count: 219
Reviewed by: Gigi
Heat Level: 5 flames out of 5
Rating: 5 stars out of 5
Blurb:

Whoever said you can't go home again should change that to should not go home again. As in EVER!

Mason Foxworth swore on his grandmother's bible never to return to the small Georgia town he sort of grew up in. And for eight years he'd succeeded in keeping that promise. Until his twin sister decided she needed to get married…back home…and she'd invited their parents. Wasn't this going to be a just a fabulous weekend?

Since leaving the Marines, Kilby Adams rarely ever left his farm and now here he was in Georgia, as best man at his stepbrother's wedding. Out of his comfort zone and with too many people that he doesn't know Kilby has nothing to keep his mind off the past except the gorgeous brother of the bride.

And wouldn't you just know it, there was only one room left at the Inn and Kilby would have to share it, with Mason, who was straight and….yeah, this was going to be one hell of a weekend.

New Mercy Celeste! I am unashamed to tell you that I let out a little squeal when I saw this book on Amazon for pre-order. I love Ms. Celeste's work and four of her books (now five) are on my GoodReads "absolutely favorites" shelf. , , and .
This is the story of Mason and Kilby, both men equally fucked-up because of past pain, heartbreak and humiliation. They meet at the wedding of Mason's twin sister to Kilby's stepbrother. Both are estranged from their families. So estranged that the family didn't expect them to show up and the men have to share a hotel room since there weren't reservations for them.
To explain the angst in these men's lives, here's the tip of the iceberg:
Mason and his sister were shipped from stepfather to stepfather as his mom fell in and out of love. Mason was happiest with musician stepfather Cody and felt he was the closest thing to a father he's ever had. Cody commits suicide and Mason is the one to find his body. As for his sexual orientation, he is "straight" and never been with a man before, even with the strong sexual attraction he feels towards men.
Kilby is an ex-Marine working his grandfather's farm. He was in love with Jon, a fellow soldier, and while not "out and proud" to the world, he made no secret to his family and friends that he was gay. Jon kills himself over his shame of being gay and Kilby finds his body and a suicide note addressed to him.
Pretty fucked up, huh? And that is just the iceberg tip!
At 27% I got super, duper excited to read that both men were into rough sex, a particular favorite of mine.
I lay on the sofa under him. Legs sprawled on the floor, arms on the back of the seat where he'd put them. I felt my dick throb in my jeans. I let him see me like this. I wanted him to know I wouldn't hurt him, and I wanted him to hurt me.
But I quickly realized that it wasn't the fun kind of rough sex. It was the punishing kind, where both men were ashamed of themselves for various reasons and felt they deserved to be hurt and humiliated.
"I want to hold you down," he said, there was uncertainty in his eyes. "I want to…take you hard." I trembled. Fuck me. He didn't seem the type. "Hurt me. Fuck me hard. Make me feel you." I gave him my permission. God, it had been so long since I'd let another man use me. Mason needed to use me, I needed to be used. I was twisted."
"Yes, fuck, yes." I dug my hands into the sofa cushions and under him so that I could squeeze his ass. He fucked me back. We had a rhythm that made me sweat, bodies slapping together and I fucked him hard. I wanted to see the pain in his eyes, I wanted to see what I did to him. I wanted to fuck him until I broke him."
While there was a big, heaping dose of angst in this book, I didn't feel it overwhelmed my emotions and pulled me into the sad, depressed mood extreme book angst can do to me. These men actually share their pain and emotions and it was sweet and affectionate and hot as all get-out.
I can HIGHLY, HIGHLY recommend to all M/M romance-with-angst junkies. Mercy does what she does best, putting her emotionally damaged characters in each others paths and letting nature take its course.
Advance Review Copy
Galley copy of provided by
MJC Press
in exchange of an honest review.