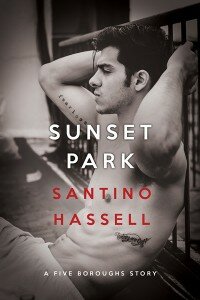 Title: Sunset Park (Five Boroughs #2)
Author: Santino Hassell
Publisher: Dreamspinner Press
Release Date: December 11, 2015
Genre(s): Contemporary
Page Count: 230
Reviewed by: Renée
Heat Level:  4 flames out of 5
Rating:  5+ stars out of 5


Blurb:

Raymond Rodriguez's days of shoving responsibility to the wayside are over. His older brother wants to live with his boyfriend so Raymond has to get his act together and find a place of his own. But when out-and-proud David Butler offers to be his roommate, Raymond agrees for reasons other than needing a place to crash.

David is Raymond's opposite in almost every way—he's Connecticut prim and proper while Raymond is a sarcastic longshoreman from Queens—but their friendship is solid. Their closeness surprises everyone as does their not-so-playful flirtation since Raymond has always kept his bicurious side a secret.

Once they're under the same roof, flirting turns physical, and soon their easy camaraderie is in danger of being lost to frustrating sexual tension and the stark cultural differences that set them apart. Now Raymond not only has to commit to his new independence—he has to commit to his feelings for David or risk losing him for good.
I recently wrote a review where I said I didn't have to start off liking one or both MCs to have an author knock it out of the park for me. This is how it's done, folks.
Many of us weren't too keen on David from book 1 after he cheated on his boyfriend. I know I wasn't. Hassell, though…….he places you perfectly inside his characters' heads. You WILL walk a mile in their shoes with them. His characters are perfectly imperfect. And I grew to love David, even in those moments I wanted to kill him.
And Raymond. If all you saw when you met him in Book 1 was the immature moocher, he sees himself much worse. Hassell's ability to so intricately switch POVs is a work of art in this story. I wanted to cry for Ray. And I wanted him to see himself as David saw him. I wanted him to see how much David had him figured out from the beginning:
If he decided that something wasn't worth talking about, he cast it away into an abyss with the rest of his undiscussed feelings.
Raymond gave me the look again – the penetrating gaze that seared through me whenever he was trying to determine whether it was worth it to explain himself.
This was a friends-to-lovers story that was endearing and heartbreaking to watch unfold. The endearing parts that had me smiling included the affectionate moments shared between these two friends long before they ever figured out that they were perfect for each other. The snuggling and unconscious touching that happened all the time had me grinning like an idiot. And the snarky banter gets me every time:
"I'm so sorry. I didn't know my presence was offensive. I tried to un-gay myself for you and everything!"
"Uh huh. Yeah. Un-gay." Raymond reached out to tug one of the belt loops in my skinny jeans, illustrating how poor my effort had been.
This book had, hands down, one of the best first kisses between MCs that I've ever read. I actually felt my mouth drop open and then I went back and reread it AGAIN. It was that good. Tender and meaningful. So well-written. (I just read it again while I typed this, ha!)
But the heartbreak had to be there, too. You should know by now with this author that there is no fluff to be found. And I wouldn't have him any other way. I leave his books having EXPERIENCED something. He always breaks my heart through the relationships of his MCs and then puts it back together. He makes it hurt so good.
I can't write this review without mentioning the god that is Nunzio making multiple appearances in this book. He is my favorite character, and he serves as a mentor for Raymond since his childhood and throughout Ray's story. And pay attention to the opening chapter where you will need to fan yourself as Nunzio and Michael may or may not have some steamy action on the couch.
From David's internal struggles with guilt to Raymond's beautiful personal growth, these two men find out what it means to "stop thinking." I can't recommend this book enough.
Five Boroughs Series
Author Link
GoodReads
Advanced Review Copy
Advanced review copy of
Sunset Park

provided by

Dreamspinner Press in

exchange for an honest review.