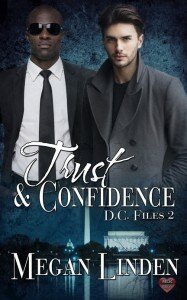 Title: Trust & Confidence (D.C. Files #2)
Author: Megan Linden
Publisher: MLR Press
Release Date: November 13, 2015
Genre(s): Contemporary/Politics/Secret Service
Page Count: 130
Reviewed by: Gigi
Heat Level: 4 flames out of 5
Rating: 3 stars out of 5
Blurb:

It's been ten years, they're supposed to be over this.

Michael Lorne has worked for years to be where he is right now – on a protection detail for the White House Chief of Staff. But then his whole world gets shaken up the moment he meets the one person he thought he would never see again. His childhood best friend, his first love, the one who got away.

After a stint of working on presidential campaign, Adam Davis is back where he belongs – writing for his political commentary blog, DC College. Life is good. He's comfortable. He's doing what he loves. He's… not prepared to see Michael walking back into his life.

Nothing can be the same now that they have met, but what will happen next? Is their past truly behind them or are there some things that were never meant to end?
I am such a fan of the first book in this series To Serve and Protect that
I couldn't wait to get my hands on this one. The second book had a lot of new information about MCs Blake and Sam and daughter Olivia and it was so great to see them again. The big problem with Trust & Confidence? One word: Adam.
Adam is a journalist who owns and operates a very successful D.C. political blog. He grew up with Michael and the two were inseparable from grade school until the end of high school. When they both came out to each other, they fell in love and Michael hoped it would last forever But Adam broke things off when we went off to college and Michael went into the Marines.
Flash forward ten years and Adam runs into Michael again at the White House. Michael is a Secret Service Agent protecting Sam Daniels who has been promoted to White House Chief of Staff. Adam and Michael decide to try dating again and quickly fall into bed together.
Adam turned out to be a pretty big ass hole, stomping all over Michael's feelings not once, but twice. I also didn't feel any love connection between these men. Adam seemed incredibly narcissistic and there just didn't seem to be enough information on Michael to formulate an opinion.
For fans of the first book, I would recommend this one so you can read up on Sam and Blake and Olivia, but for everyone else, this one just doesn't have what it takes to make an enjoyable M/M romance read.
Advance Review Copy
Galley copy of provided by in exchange of an honest review.