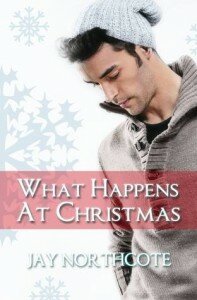 Author Name: Jay Northcote
Book Name: What Happens At Christmas
Release Date: November 19, 2015
Pages or Words: 37,000 words (approximate)
Categories: Contemporary, Fiction, M/M Romance, Romance
Publisher: Jaybird Press
Cover Artist: Garrett Leigh
Blurb:
When two friends pose as boyfriends, could what happens at Christmas turn into something more?

Justin is recently and unhappily single. Christmas is coming, and he doesn't want to face his ex alone at their office party. So Sean—Justin's best mate and long-time secret crush—volunteers to go with him and pretend to be his new flame.

Sean has always lusted after Justin from afar, but there's never been a good opportunity to ask him for more than friendship. Posing as Justin's boyfriend isn't a chore, and if Justin wants to rebound onto him, Sean's more than willing. At the party pretense and reality blur, and a kiss on the dance floor leads to a night of passion.

In the aftermath, they both assume it was a one-time thing until fate intervenes. Stuck together in London over the holidays, they give in to temptation again. But what happens at Christmas stays at Christmas… right?
Excerpt
Justin's phone chimed with a text, interrupting Sean's train of thought.
Justin picked up his phone to read the message. "Ugh." He put the phone back down without typing a reply and ran his hands through his hair.
"What's up?"
Justin sighed. "It's our work Christmas party next weekend. I've already got a ticket, and nearly everyone in the office goes, but it's for partners as well. One of my co-workers, Jess, is bugging me to come, but I can't face it. I bet Andy's going to bring his new boyfriend. I know he's a shit and I shouldn't let him get to me, but the thought of him parading around with my replacement, and me being there on my own, isn't very appealing."
"Is it too late to find someone to take?"
"No, they don't need final numbers till Monday."
"Well, then. Take someone else and flirt like crazy in front of him. Show him you can do better and that you've already moved on."
"But I'm not ready to date. It's only been two weeks, and I'm still at the feeling-sorry-for-myself stage."
"I'll go with you," Sean offered. "I could be your date. We could pretend we've got together and are a couple now."
"Yeah?" Justin looked thoughtful. "Are you sure?"
Duh. It would hardly be much of a sacrifice to flirt with Justin all night. It would actually be a relief not to have to hide the way he felt for a change.
"Sure," Sean replied. "I think I can manage to fake that I'm arse-over-tit infatuated with you. As long as it's only for a few hours."
"Gee, thanks." Justin rolled his eyes. "You really know how to make an already-wounded ego feel better. But if you're up for it, we should totally do it. Andy was always jealous of you before you went away. He saw you as competition because we lived together and were so close. I'd love to see his face when I walk in with you on my arm. I think he'll hate it even if he's moved on."
"Okay." Sean rubbed his hands together, excited at the prospect of getting to piss off Andy. "Let's do it! Text your friend Jess back and tell her you're in—with a hot date."
Buy Links
Meet the author
Jay lives just outside Bristol in the West of England, with her husband, two children, and two cats.
She comes from a family of writers, but she always used to believe that the gene for fiction writing had passed her by. She spent years only ever writing emails, articles, or website content. One day, she decided to try and write a short story–just to see if she could–and found it rather addictive. She hasn't stopped writing since.
Tour Dates & Stops
Parker Williams, The Day Before You Came, MM Good Book Reviews, SA McAuley, Jessie G. Books, Inked Rainbow Reads, Bayou Book Junkie, Wicked Faerie's Tales and Reviews, Bonkers About Books, Bike Book Reviews, Gay Book Reviews, Havan Fellows, Tara Lain, Lee Brazil, Elaine White, BFD Book Blog, V's Reads, Fangirl Moments and My Two Cents, Unquietly Me, , Cheekypee Reads and Reviews, Carly's Book Reviews, Open Skye Book Reviews, Just Love Romance, Divine Magazine, Mikky's World of Books, , Vampires, Werewolves, and Fairies, Oh My, Nautical Star Books, The Jena Wade, Alpha Book Club, Louise Lyons, Elisa – My Reviews and Ramblings, Molly Lolly, Foxylutely Book Reviews, Velvet Panic, Dawn's Reading Nook, LeAnn's Book Reviews, Two Chicks Obsessed With Books and Eye Candy, Scattered Thoughts & Rogue Words, 3 Chicks After Dark, Michael Mandrake, It's Raining Men, Moonbeams Over Atlanta