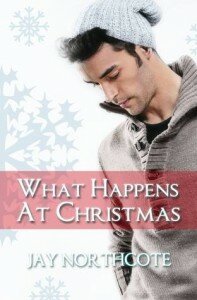 Title: What Happens at Christmas
Author: Jay Northcote
Publisher: Jaybird Press
Release Date: November 19th 2015
Genre(s): Contemporary
Page Count:
Reviewed by: Ele
Heat Level: 5 flames out of 5
Rating: 5 stars out of 5
Blurb:

Justin is recently and unhappily single. Christmas is coming, and he doesn't want to face his ex alone at their office party. So Sean—Justin's best mate and long-time secret crush—volunteers to go with him and pretend to be his new flame.

Sean has always lusted after Justin from afar, but there's never been a good opportunity to ask him for more than friendship. Posing as Justin's boyfriend isn't a chore, and if Justin wants to rebound onto him, Sean's more than willing. At the party pretence and reality blur, and a kiss on the dance floor leads to a night of passion.

In the aftermath, they both assume it was a one-time thing until fate intervenes. Stuck together in London over the holidays, they give in to temptation again. But what happens at Christmas stays at Christmas… right?
This was my first holiday read for 2015 and I couldn't have chosen better! Don't miss this sweet, sexy and angst-free Christmas story. It's a great way to get in the spirit of the season.
I realise I sound like a commercial. I don't care, I'm happy and warm, because…holiday feels!
This story has not only one, but two of my favorite tropes. "Friends-to-lovers" and "fake boyfriend".
The plot is simple but the execution is just right. Justin broke up with his douchebag-cheating boyfriend. Instead of going at the company's Christmas party all alone and miserable, he and his best friend Sean agree to pose as boyfriends. Until things start to feel too real.
The friends-to-lovers theme worked really good. Justin and Sean were BFFs and had a secret crush on each other. It was very believable and things progressed naturally.
The slow burn almost killed me. Right until 50% they kept dancing around each other and then BOOM! The second half is very steamy and the sex is smoking hot.
I loved that despite the amazing sexual chemistry between them, the romance and the friendship they shared never took a backseat. What I felt that was missing in (which I liked but didn't love), I found it here.
There is cuddling, exchanging cheap gifts, watching movies bundled together on the sofa , making snow penises instead of a snowman (and arguing about weather it should be cut or uncut), snuggle under the covers.
One of my favorite stories of the author. Recommended!
Advanced Review Copy
ARC kindly provided by the
author
in exchange for an honest review.