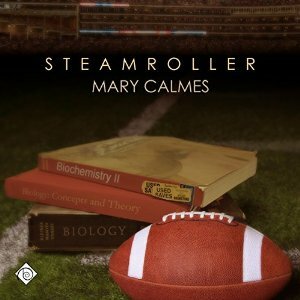 Title: Steamroller
Author: Mary Calmes and Joshua Macrae (Narrator)
Publisher: Dreamspinner Press LLC
Release Date: November 30th 2015
Genre(s): M/M Contemporary Romance
Length: 3 hrs and 27 mins
Reviewed by: Belen
Heat Level: 3 flames out of 5
Rating: 4.08 stars out of 5

Blurb:
About the last thing Vincent Wade expected was for Carson Cress to ask him out. Vince is a dedicated biology student and a bit of a loner. Superstar quarterback Carson is larger than life, and he lives under a public microscope. There's no way they should work. But Vince is learning that sometimes people just come steamrolling into your life and all you can do is hang on for the ride or lose your heart in the process. If their relationship can survive the fallout when an injury derails Carson's future plans, maybe Vince can finally find something to believe in.



This is a new adult insta-love story that is pure Calmes.
I don't know what it is about Mary Calmes' writing, but she just flat out works for me. Things that would normally make me nuts or cry "foul!" totally work under her magical ways. Take this novella for instance – it moves fast. Seriously. The relationship moves faster than Usain Bolt.
Vincent Wade is an assistant manager of a copy store putting himself through university with a plan to become a botanist/genetic engineer and create a species of plant, some hybrid of wheat and oat that would grow really fast and feed the world's hungry. He's sarcastic, snarky and a pain in the ass.
Carson Cress is the university's quarterback football star and its resident BMOC. While Vince knows of Cress, unbeknownst to Vince, Cress has been watching Vince for a year waiting for an opportunity to approach him.
Their first meeting doesn't go too well, but when they meet again Cress makes sure Vince knows he wants him. Vince isn't convinced as Cress has always been straight, which is enough of a concern, but he's also a well-known football player slated for the NFL, which does not bode well for a gay relationship or future.
They have one explosively sexy, mind-blowing night before Vince's reservations seem to bear fruit. That is until a tragedy strikes and Cress needs Vince to prove that together they can weather the coming storm.
This is short, and like I said before, moves fast. It also ends with more of a glimmer of an HEA than an actual HEA. I wanted more. Then again, with Calmes I always want more. But I'd love to have seen more about them finding their way together.
I thought Joshua Macrae does a great job with the narration. He does a splendid job conveying both Vince's snarkiness and vulnerability, and makes the sexy times hot. Macrae may be a new to me narrator, but I definitely enjoyed his performance and will look for other work by him.
Recommended!