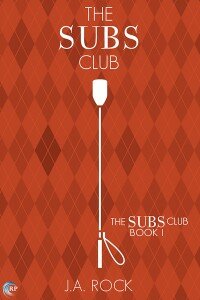 Title: The Subs Club (The Subs Club #1)
Author: J.A. Rock
Publisher: Riptide Publishing
Release Date: December 7th, 2015
Genre(s): BDSM Erotic Romance
Page Count: 297
Reviewed by: Otila
Heat Level: 5 flames out of 5
Rating: 4 stars out of 5
Blurb:

A year ago, my best friend Hal died at the hands of an incompetent "dom." So I started the Subs Club, a private blog where submissives can review doms and call out the douche bags.

A perfect example of the kind of arrogant asshole I mean? The Disciplinarian. He has a pornstache. He loves meat, stoicism, America, and real discipline. And he thinks subs exist to serve him.

But . . . not everything about him is awful. His Davy Crockett act just seems like a cover for his fear of intimacy, and part of me wants to show him it's okay to get close to people. And, I mean, sue me, but I have fantasized about real discipline. Not role-play, but like, Dave, you're gonna be thirty in four years and you still work in a mall; get your ass in gear or I'll spank it.

Not that I'd ever trust anyone with that kind of control.

I'm gonna redefine "battle of wills" for the Disciplinarian. Or I'm gonna bone him. It's hard to say.

—Dave

I loved this book. It's funny, well written and so damn quotable. It had me highlighting like crazy and cackling out loud.
"We're like the Baby-Sitters Club. Except instead of babysitting, we're face-sitting."
A year after losing a friend to a BDSM scene gone wrong, David and with his friends Kamen, Gould and Miles, start the Subs Club, a blog where they and other submissives can rate and discuss doms they've played with and warn each other of those that make them feel unsafe. David sees it as a way to look after his friends.
David decides that he's going to play with and then rate a dom that calls the Disciplinarian, or D, because he's obviously a douche, even if he is "pornstachily handsome."
"What a dick. I can't believe I wanted to feel his mustache in all my secret places."
I loved David. He's hilarious and fantastically sarcastic. This book is all about him trying to overcome his fears and trust issues that have crept in ever since his friend died.
Then there's D. He's a sexy dom with a pornstache and a love of bacon and cheesy Syfy movies. What's not to love?
"Better than bacon?' I ground out.
"Nothing is better than bacon. But ripping the last ounce of control from someone is as close to bacon as you can get."
I do feel like the ending was a little too abrupt, though. I just wanted a little bit more and give me that assured HEA but I'm sure we'll see more of this couple in the next book. I can't wait!
I leave you with my favorite quote:
"I like, wanted to have his children and shave his face but also feel his mustache sanding my balls and have him teach me how to smoke venison. It was a bounty of contradictions."
The Subs Club Series

Buy Link Amazon Global Author Link GoodReads More Author Reviews