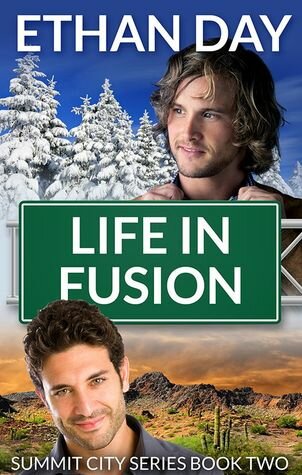 Title: Life In Fusion (Summit City # 2)
Author: Ethan Day
Publisher: Self Published
Edition: Second Edition
Release Date: October 30, 2015
Genre(s): M/M Adventure/Comedy Romance
Page Count: 270
Reviewed by: JLoves2Read for Gay Book Reviews and Alpha Book Club
Heat Level: 4 flames out of 5
Rating: 4 stars out of 5
Blurb:

The Sno Ho Sequel

Aspiring author, Boone Daniels, always figured love would be as easy as he was. Fresh off the whirlwind winter-vacation romance with ski-god and would-be boyfriend, Wade Walker — Boone was certain that saying goodbye would be the hardest part.

He'd survived the unconventional way in which they came together, proven himself somewhat worthy to Wade's hometown of Summit City, and felt certain the self-imposed, six month boy-buffer would prove one thing – their fate was to be forever entwined.

Once real life settles in, Boone suffers the realization that no one ever actually said love was easy and that even after you fall, you can still break. As their two worlds collide, he begins to understand that if he can navigate the landscape of life in fusion, he just might get that happily-ever-after — after all.

This is the second book in the "Summit City Series" and the follow up to Sno Ho as Ethan Day brings us back to Boone Daniels and Wade Walker. In this book we get to watch as their relationship continues to grow and life choices must be made. Ethan Day continues to infuse humor and snark throughout the book making this for a fun follow up and entertaining read.
Advanced Review Copy
ARC provided by the author in exchange for an honest review.