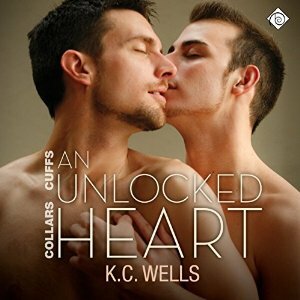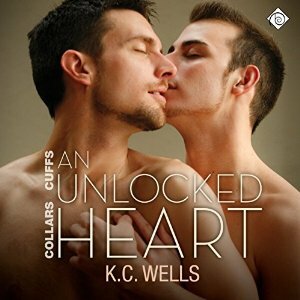 Title: An Unlocked Heart
Series: Collars and Cuffs, Book 1
Author: K.C. Wells
Narrator: Nick J. Russo from Falcon Sound Company
Publisher: Dreamspinner Press
Release Date Book: 7/12/2013
Release Date Audio: 1/22/2015
Genre(s): M/M BDSM, New Beginnings
Page Count: 314
Audio Length: 10 hrs 4 mins
Reviewed by: JLoves2Read
Heat Level: 5 flames out of 5
Rating: 5+ stars out of 5
Blurb:


Since the death of his submissive lover two years ago, Leo hasn't been living—merely existing. He focuses on making Collars & Cuffs, a BDSM club in Manchester's gay village, successful. That changes the night he and his business partner have their weekly meeting at Severinos. Leo can't keep his eyes off the new server. The shy man seems determined to avoid Leo's gaze, but that's like a red rag to a bull. Leo loves a challenge.

Alex Daniels works at Severinos to scrape together the money to move out on his own. He struggles with coming out, but he's drawn to Leo, the gorgeous guy with the icy-blue eyes who's been eating in his area nearly every night.

Leo won't let Alex's hesitance get in the way. He even keeps him away from the club so as not to scare him. And as for telling Alex that Leo is a Dom? Not a good idea. One date becomes two, but date two leads to Leo's bedroom… and Alex discovers things about himself he never realized—and never wanted anyone to see.

I have to start out by saying that I loved this story! Leo quickly became a favorite main character of mine and watching him overcome losing his previous submissive and partner, while learning to love again made for a beautiful story. The author provided the perfect companion for Leo when she created Alex. Alex starts out shy and unsure of himself, it is great to watch him blossom as a submissive. Oh and the hotness of this story! Off.The.Charts! So the story itself is worthy of the 5+ Stars, then we are going to add in an excellent narrator for the audiobook. Nick J. Russo nails this audio. He does a great job bringing Leo and Alex to life. I have read this story and also enjoyed it as an audiobook, and I can say that Nick adds a layer to the story.
I went into this series knowing nothing of it and I can easily say that K.C. Wells has snagged me as a fan with book one. After this book I went on to devour the rest of the series in both written and audiobooks – yes devoured, it was like a huge binge and I loved them all. I highly recommend this book and this entire series. If you like audiobooks you really can't go wrong enjoying the series in audio also, why not do both – I did.
Collars & Cuffs Series

Buy Book Buy Audio Author Link GoodReads

Advanced Review Copy
Review Copy Provided by Author In Exchange of An Honest Review