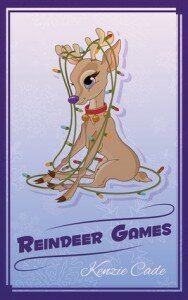 Title: Reindeer Games
Author: Kenzie Cade
Publisher: Less Than Three Press
Release Date: December 9, 2015
Genre(s): M/M Fantasy
Page Count: 22,000 words
Reviewed by: Alissa
Heat Level: 3 flames out of 5
Rating: 3.8 stars out of 5
Blurb:

Dashing von Stride has one thing on his mind: winning the window display contest for the Miracle on Main Christmas Contest. His plans are set and ready—and then he walks into his toy store, Reindeer Games, to find a sleigh that shouldn't be there. The mystery sleigh sparks a new plan, however, and now all Dash needs is the perfect Santa to model his display after.

This year, the pranks with his reindeer have gotten out of hand. Instead of preparing for the Big Day, Niklaus Kringle is hunting for his missing sleigh. Locating it should have been easy, but games easily won are seldom worth playing…

Very nice with a hint of naughty.
This has been a good season for holiday stories in the M/M romance world. So go ahead and add Reindeer Games to that list. This was a sweet, fluffy, full of Christmas magic read. I was almost thrown off by the cover but once I read the book it all made perfect sense.
This book was very original. Ms. Cade takes some familiar Christmas icons and turns them into something new. Dashing Von Stride is a young man with an old-fashioned talent. He makes toys by hand like Santa and his elves ala the North Pole. He sells them and newer toys in his toy shop Reindeer Games in Wassail, Colorado. The story opens with Dash preparing for the upcoming holiday window display contest and fretting something awful. He always comes in second. He's hoping this year's idea will do the trick but he's not sure. But then, something happens. He finds a large sleigh in his toy shop. And brilliance strikes. He will use it in his window display which will surely give him the win.
But the owner of the sleigh wants his ride back. You see, he needs it for the Big Day. Enter, one Niklaus Kringle, Prince of the Kingdom of North Pole and eldest son of Kristopher Kringle. Yep, my friends, he is the son of the one and only Santa Claus. And one of his reindeer, Reign (first born of Rudolph) has played a joke on Nik and hidden the sleigh in Dash's toy shop. And it was no coincidence that's where Reign and a few other reindeer decided to put it. It was fate. Or rather magic. But nothing goes as planned when Nik and Dash meet.
The story does move rather quickly as it is a novella. I did feel a little cheated because things moved so fast. I wanted the story to slow down so I could savor every magical moment. The chemistry between the MC's is electric. The supporting cast is stellar; not merely figures in a window display. The back history of the Kringle and Von Stride families was interesting. I looked forward to seeing who or what Ms. Cade was going to bring into the story next. My only real complaint, because it's a novella, is the ending was rather hurried and brief. Questions are left unanswered. But rest assured, there is a definite HEA for Nik and Dash
I totally recommend to readers wanting a quick, magical read. Who need a little dose of Christmas Cheer. Who want some nice in their books with just a hint of naughty. Reindeer Games is one of the most original holiday stories I've ever read. So, don't let the cover fool you … there's a lot of magic inside.

Buy Link†Author Link†GoodReads