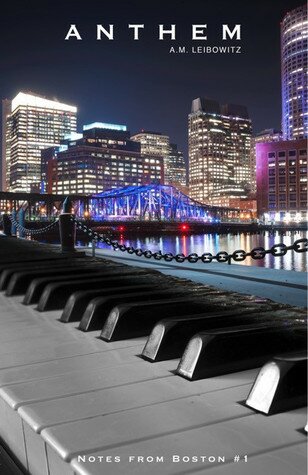 Title: Anthem (Notes from Boston Book 1)
Author: A.M. Leibowitz
Publisher: Supposed Crimes
Release Date: March 1, 2016
Genre(s): Contemporary
Page Count: 200
Reviewed by: Crabbypatty and LenaR
Cover Artist: Brett Kessler
Blurb:

Trevor Davidson has everything going for him. He's just moved out on his own with three friends, and he's landed a job as music director at a large Boston church. He has high hopes for marrying his long-term girlfriend and settling into a comfortable, devout lifestyle.

Andre Cole has spent the past few years throwing himself into a dead-end job at a Cape Cod-based call center. When an opportunity to move back to Boston arises, Andre believes it will be the do-over he needs to put his past behind him.

A chance meeting in a club on New Year's Eve brings Trevor and Andre together for a brief but steamy encounter. Both assuming that's the end of it, they are unexpectedly thrown back into each other's lives when Trevor's church hires Andre for their website design. While Andre is content at first to move on, Trevor's conflicted feelings bubble over into his songwriting. Before he can stop it, his ode to Andre becomes an inadvertent Christian radio hit.

Unfortunately for Trevor, he isn't the only one who knows the song's hidden meaning. Someone has leaked the story and upended Trevor's life. In order to put the pieces back together, he needs to learn to be honest with his girlfriend, with Andre, and especially with himself.
Excerpt
A sliver of light and the door thumping shut alerted him to the presence of someone else. His hands stopped moving, hovering over the keyboard. He looked up to see Pastor Bret standing at the back of the aud.
Trevor jumped, his face flaming, and he was glad for the dim light hiding the red flush he was sure marked his cheeks. "Uh…hi?" he squawked out.
"Don't stop on my account," Pastor Bret said. "The song is fantastic. You've been holding out on us, acting like you didn't have anything big for the recording. Where've you been hiding that one?"
Covering his tracks, Trevor joked, "Under my hat." His stomach churned.
"Uh huh. Well, I'd like to see you finish up your new song so we can use it. How long do you think it'll take?"
"It's about done, but—" He coughed, stalling while he worked out what to say to Bret to put him off. "I was thinking about changing some of the words, though. It's not—I mean, it doesn't specifically say God or Jesus, and it probably needs some other fixes. You know, so it sounds more…spiritual." Trevor gritted his teeth in frustration as the inspiration for the song rose to the forefront of his mind.
Bret looked thoughtful. "I don't know. Can you play it for me?"
All the blood which had previously rushed to Trevor's face drained away, and sweat trickled down his neck to his collar. "I—"
"Not sure you want anyone to hear it til it's perfect, eh?" Bret laughed. "Come on. Don't worry that it's not good enough."
Oh, God, help me! Trevor prayed. "Okay," he heard himself say, even though he'd really meant to say, No way in hell.
He played the opening chords and began to sing, quietly at first and then with more confidence. "You touch my heart…"
He immersed himself in the song and in the memories he'd drawn on to write it. It didn't matter what it was about; he was perfectly capable of making it sound like a love song to his God. He kept his gaze trained on the chord sheet in front of him, not daring to look Bret in the eye just in case. When he was through, he let the note fade away and closed his eyes. He didn't want to see Bret's reaction.
It took a moment, but Bret finally broke the silence. "Wonderful. I wouldn't change a thing. When we have a thousand members all singing this together, they'll all know who they're singing it for."
Trevor's immediate reaction was, No, they won't.
Buy the book
/ Amazon Global / Barnes & Noble / Kobo
Meet the author
A. M. Leibowitz is a queer spouse, parent, feminist, and book-lover falling somewhere on the Geek-Nerd Spectrum. Ze keeps warm through the long, cold western New York winters by writing about life, relationships, hope, and happy-for-now endings. In between noveling and editing, ze blogs coffee-fueled, quirky commentary on faith, culture, writing, books, and hir family.
Where to find the author
/ / | / Web site / / Goodreads / Goodreads Link
Tour Dates & Stops
Parker Williams, Divine Magazine, , KathyMac Reviews, BFD Book Blog, Scattered Thoughts & Rogue Words, Jessie G. Books, Bayou Book Junkie, Unquietly Me, Open Skye Book Reviews, MM Good Book Reviews, Full Moon Dreaming, Because Two Men Are Better Than One, Book Lovers 4Ever, , Molly Lolly, Wicked Faerie's Tales and Reviews, Alpha Book Club, Inked Rainbow Reads, Kiki's Kinky Picks, Velvet Panic, Havan Fellows, Kirsty Loves Books, My Fiction Nook, Gay Book Reviews, Cheekypee Reads and Reviews