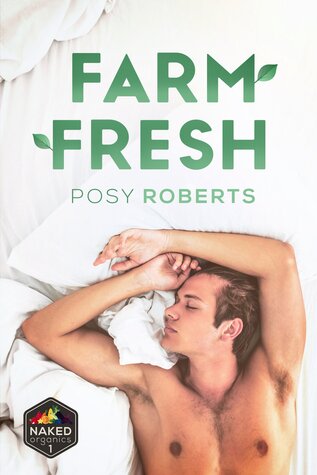 Title: Farm Fresh
Author: Posy Roberts
Series: Naked Organics, #1
Publisher: Labriynth Bound Press
Release Date: January 28, 2016
Genre(s): M/M Romance, Friends-to-Lovers
Reviewed by: Jaime from Gay Book Reviews and Alpha Book Club
Page Count: 204
Heat Level: 4 flames out of 5
Rating: 4 stars out of 5
Blurb:

Jude Garrity visits the farmers market every Saturday. As an environmental engineering student, he's curious about living off the grid and sustainable agriculture.

And one particular farmer.

Hudson Oliva has worked hard to support his commune, where queer people live without fear of harm or retribution. When Jude asks pointed questions about living there, Hudson realizes he needs to be honest about his home. Few people know what the farm is actually about, but Jude is insistent.

Jude moves to Kaleidoscope Gardens, however his sexual hang-ups make it hard to adjust. He's an uptight virgin living among people who have sex freely and with multiple partners. When Jude finally loosens up, Hudson is flooded with emotions. Falling for Jude wasn't part of Hudson's life plan. But when vindictive rumors about the commune begin to spread, love might be all he has left.

4 Stars! — #FarmFresh Virgin gettin' down on the #sexcommune
This was a very unique book and I FLOVED IT!! Jude is an environmental engineering student he is drawn to Hudson who he meets and visits weekly at the farmers market. There is just something about Hudson that Jude can't walk away from and he is finding himself more and more curious as to how Hudson lives and who he lives with. Why you may ask? Well because Hudson lives in a commune. When Jude is asked to come visit the commune, Kaleidoscope Gardens, for a visit he is shocked that not only is it a commune but a place where sex is freely exhibited and clothing is optional. This is a huge change for Jude who grew up in a household that believed the only time sex was acceptable was when one was attempting to procreate, so for a gay man – sex was never acceptable.
After Jude's initial visit and after he passes all his background screening and the interview process, Jude is invited to come live at Kaleidoscope Gardens. Jude accepts and his life slowly changes from one of a repressed, up-tight, introverted, virgin to a free-lovin' gay man who is not afraid to stand up to those who threaten to take away what he holds dearest and who enjoys learning to explore his sexuality with one or more partners. During his time at Kaleidoscope Gardens, Jude's feelings grow for Hudson – but something is keeping Hudson from accepting Jude. It isn't until they are thrown together in a messy situation that the two finally succumb to each other and get down and dirty together on the farm.
This book was a really good read full of free love and hot sex. I honestly can't say that I have ever read a book like it before and now I cannot wait to read the next in the series!

 Author Link GoodReads More Author Reviews

Advanced Review Copy
Galley copy of provided by
Author
in exchange of an honest review.