Hi! I'm Avon, and I'm here today to tell y'all ten reasons why I love hockey!
WARNING: Avon likes capslocks, goalies, and the Boston Bruins. Avon likes these three things A LOT.
So, here we go!
Hockey Hugs are the BEST. Just imagine these big, tough guys flying on ice skates to hug each other after last-second goals. They are so happy! Here are three I particularly love:
I should tell you that Zdeno Chara is six-foot-nine without skates. So that's how high Tyler Seguin had to jump.

LOOK AT HOW HAPPY THESE LEAFS ARE! (Insert your own joke about how rare of an occurrence that is here)
And it's not just the NHL — check out the most enthusiastic hug ever, from Team Sweden!

Even the guy NOT HUGGING is excited!!
Seriously, if hockey were a punctuation mark it'd be !!!! No wonder I like it 😀
The Stanley Cup is the coolest trophy in all of sports, hands down.

Each year, the winning team gets their names engraved on a band. There are a lot of funny stories about errors on the engravings. They misspelled the Maple Leafs as "Leaes" in 1963, and Boston was "BQSTQN" in 1972. When the bands make the Cup too unwieldy, the bottom one is removed to make way for new ones and new teams. Apparently in six years the Stanley Cup will be nothing but rosters from the Chicago Blackhawks. SIGH.
You can see the removed-bands at the Hockey Hall of Fame in Toronto, which is pretty cool.
Each team gets 100 days in the off-season to spend with the Cup for promotional and celebratory purposes. A lot of teams have been doing the "Day with the Cup" thing, in which each player gets to spend a day with Lord Stanley. You can take it places, put your baby in it (a lot of babies have been in that thing, including baptisms), take it to a strip club, put it in a swimming pool.

The Cup is usually given first to the captain of each team after a win, and they skate a lap with it around the ice before passing it off to their teammates to do the same.
Because I may never see this again in my lifetime, here's my captain Zdeno Chara with the Cup in 2011.
The NHL works with the You Can Play Project, which is a wonderful initiative to remove bullying and homophobia from sports and encourage young athletes of all sexual orientations — as well as promoting hate-free locker rooms and fostering an inclusive atmosphere. NHL teams have made videos featuring their players voicing support for the initiative. There are several NHL players who serve on the board as well.

Just recently, the Edmonton Oilers wrapped their sticks with Pride Tape to show support for young LGBTQ players.
(And if you want some Pride Tape of your very own, they just had a successfully funded Kickstarter to make it available! Check them out at !)
I won't lie, this makes me tear up in a good way. Unlike the Bruins' last game before the All-Star Break. Anyway!
You can read more about this awesome initiative at the You Can Play Project.
I'm fortunate to be part of an anthology, "Changing on the Fly", that will feature M/M hockey romances to benefit this charity. It should be out in time for the 2016 season, and all proceeds will go to the You Can Play Project.
Two drunk guys at a bar who get in a fight over something dumb is not sexy. Two guys on the ice who fight because of HONOR, though…yeow! In Save of the Game, Ethan Kennedy is an enforcer who responds to hits on teammates and goalies in the time-honored tradition of hockey. But there's a code of ethics that fighters follow, and there's something very gentlemanly about that to me.
I do have to point out that fighting is a hot-button issue in the NHL and there's a lot of discussion about its place in the game. In lieu of that discussion, though, look at these pictures of a goalie fight that broke out between Montreal Canadiens' goalie Carey Price and Boston Bruins' goalie Tim Thomas:
The fight:
Aaaaaand, here's immediately afterward:

There is nothing sexier than taking a few punches and having a sense of humor about it, if you ask me. I've also seen games where the hard-nosed enforcer will fight a guy, then give him a back-pat on the way to their respective benches to tell his opponent "good job." That's just awesome.
After enforcers, goalies are my favorite. They bend in an amazing ways, perform acrobatics to keep goals out, and sometimes even get in fights. Also, they're some of the hottest players in the game.
In Save of the Game, Riley performs a "scorpion save" at an opportune moment, and I based that on this amazing save of Martin Brodeur's of the New Jersey Devils:
My favorite is how the announcer is like, "the 40 year old still has some flexibility."
SOME?? I should say so.
Speaking of hot, though, I give you Carey Price of the Montreal Canadiens. And considering I'm a Bruins fan and we hate the Canadiens, this is saying something about how hot he is. But look:

RIGHT?
And sometimes he shows up dressed in fancy suits with a pocket watch and a hat:

Why, might you ask? Oh, that's because in the off season he's into doing rodeos.

There are other pretty, pretty goalies. But the cowboy-rodeo-hot goalie should be enough to convince you. If not, just go google Henrik Lundqvist, Corey Crawford or Braden Holtby.
And in case you need more reasons why goalies are awesome, here's five minutes of happy goalies that is guaranteed to make you smile.
The NHL has some of the best rivalries in professional sports. Boston Bruins/Montreal Canadiens ("Habs"), Red Wings/Avalanche, Chicago/Detroit, Leafs/Habs…when the league was much smaller, teams had to play each other a lot and that made for a good bit of animosity.
I could write you a novel about why I love Bruins/Habs so much, but I'll spare you. Still, these two teams have played each other more than any other team in the history of professional hockey. This is an intense rivalry and there's a lot that goes into it that I could barely even cover, but it's worth reading about if you're the kind of person who likes a good rivals story. I know I do, and one of my favorite things about being a Bruins fan is the Bruins/Habs rivalry. This year's Winter Classic notwithstanding.
In 2011, on February 9th, a Bruins/Habs game resulted in six fights, the goalie fight I mentioned above with Carey Price and Tim Thomas, and 187 penalty minutes (that's a lot). The Bruins won in a final score of 8-6.
The Red Wings/Avalanche also have a pretty spectacular rivalry. On March 29, 1997 they had an infamous line brawl that also resulted in a goalie fight. Only I don't think Patrick Roy and Mike Vernon were smiling after that one.

Incidentally, in his first game as the coach for the Colorado Avalanche, Patrick Roy tried to get in a fight with Ducks' coach Bruce Boudreau. I kind of love Patrick Roy, not going to lie. He's Jared Shore's favorite player

I should point out that game seven overtimes are only cool when it's your team and they win. Otherwise they are pure torture, because the game will go on until someone scores. Triple overtime is a thing I have suffered through. And my team lost. Pity me.
Here's one of my favorites (sorry Leafs fans) — in 2013, the Bruins were down 4-1 with 11 minutes to go in the third period of game seven in the playoffs. They scored a goal, but were still down 4-2 with 1:23 left…and somehow the Bruins came back to beat the Maple Leafs in an EPIC comeback. They tied the game and sent it to overtime, where Patrice Bergeron won it. No other team in the history of the Stanley Cup playoffs has ever done this but mine.
Y'all, I want you to know that I just cheered really loudly re-watching this, and it's almost been three years since it happened. Maple Leafs' fans though, they have a hell of a sense of humor. If you want to see something hilarious, watch this video of Leafs fans watching the third period of this game and how they go from jubilation to one guy just going, "Why?"
Another one of my favorites is
is another favorite.
There's some happy hockey hugs for you!
NHL fans are amazing. They are intense, crazy, and devoted. Often they make terrible, terrible videos during the playoffs based on remakes of songs.
This is a horrible, HORRIBLE Bruins video from 2011 set to "Black and Yellow". It's terrible and I know every single word. I'm not proud of this. I'm also ashamed to tell you that I watched this video when I linked it and sang along

The Canucks, also in 2011, had
I think the Bruins one is actually way more embarrassing. But maybe that's because it's my team, or it could be that Black and Yellow song is already terrible without adding that dude's questionable lyrical style to it.
My other favorite thing is this hockey baby reciting all thirty teams in the NHL (Note: this video is from 2011, hence anyone knowing about the existence of the Atlanta Thrashers. Come to think of it, this kid may have been the only one).
If you watch NO OTHER VIDEO please watch this one, if not just for "Ducksies", "Starsies" and "Kingsies". Also, "I ALREADY SAID MAPLE LEAFS" (sure to infuriate you if you're a Senators fan, but adorably!) This is so cute. It's probably my favorite hockey video ever.
Seriously. The hottest players in sports are hockey players. Let's take a look at some of them, eh? I already showed you Carey Price, but here are some non-goalie hotties to convince you. In the interest of time and how this is already a novel in itself, I'll just share a few.

Tyler Seguin, who was IN NO WAY this hot when he played for the Bruins but he did help us win a Stanley Cup, so that's fine. He now plays for the Dallas Stars.
Not going to lie, he looks a little like I imagined Ethan Kennedy. Especially this picture:

David Krejci. Okay, look, I'm writing this post so yes there's a lot of Bruins stuff. It was up there in the warning! But I think he's the hottest, gah. Look at his profile! He's also a playmaker and my favorite Boston Bruin, so of course he's spent most of the last two seasons injured. But he's back now! And rawr!


Kris Letang of the Penguins

LOOK AT HIS HAIR THO. I mean, really.
Roman Josi of the Nashville Predators


….I don't think any commentary from me is necessary.
But if you want to know who the hottest hockey player is, i.e. Avon's Hockey Boyfriend, it's retired goalie Martin Brodeur. He's Riley Hunter's favorite player, and I think he's hot as hell. People think this is weird BUT I DON'T CARE 😐
Here he is with a puppy, in his new job with the St. Louis Blues front office (which includes animal outreach because Blues Captain David Backes once piloted a plane to go rescue puppies. This is a true story.)

And here's my favorite picture of Martin Brodeur (on the right) with Patrick Roy (on the left). They had a fierce rivalry on the ice, both being arguably the best goalies to ever play the game of hockey. They're babies in this picture, but Brodeur is beautiful and I just want to give Patrick a haircut

HOW CAN YOU SEE WITH THOSE BANGS? Anyway.

Awesomely, when Brodeur was still playing with the Devils and Roy was the new coach for the Avalanche, this happened before a Devils/Avs game:

The first time I saw this picture I thought those were donuts in that crate, by the way. So if you happen to think that, you're not alone.
LIKE I SAID, I LOVE GOALIES AND RIVALS <3
The team of my heart, even when they're a bunch of failbots who make me want to siphon bourbon directly into my bloodstream. They're an emotional team that plays hard, has a lot of history and the best rivalry in sports. And recently they make me want to take up drinking and banging my head against a brick wall as a hobby because surely it will be less painful than watching some of their games.
But that's love for you. You take the good and the bad, and for better or worse I love these idiots no matter how much they make me suffer.
Because sometimes, this happens:

And there you have it! Avon's Top Ten Reasons She Loves Hockey. Hopefully this will inspire you to find a team, grab a jersey and get ready to suffer the agony and heartbreak of caring too much about sports. You're welcome!

Title: Save of the Game (Scoring Chances #2)
Author: Avon Gale
Publisher: Dreamspinner Press
Release Date: January 29, 2016
Genre(s): Contemporary/Hockey
Page Count: 240
Cover Artist: Aaron Anderson
Blurb:

After last season's heartbreaking loss to his hockey team's archrival, Jacksonville Sea Storm goalie Riley Hunter is ready to let go of the past and focus on a winning season. His new roommate, Ethan Kennedy, is a loud New Yorker with a passion for social justice that matches his role as the team's enforcer. The quieter Riley is attracted to Ethan and has no idea what to do about it.

Ethan has no hesitations. As fearless as his position demands, he rushes into things without much thought for the consequences. Though they eventually warm to their passionate new bond, it doesn't come without complications. While trying to financially help Ethan, Riley must hide his family's wealth so as not to hurt Ethan's immense pride. For their relationship to work, Ethan will need to learn when to keep the gloves on and let someone help him—and Riley will have to learn it's okay to let someone past his defenses.
Belen's Review Lili's Review Gigi's Review
Buy Links
About Avon
Avon Gale wrote her first story at the age of seven, about a "Space Hat" hanging on a rack and waiting for that special person to come along and purchase it — even if it was a bit weirder than the other, more normal hats. Like all of Avon's characters, the space hat did get its happily ever after — though she's pretty sure it was with a unicorn. She likes to think her vocabulary has improved since then, but the theme of quirky people waiting for their perfect match is still one of her favorites.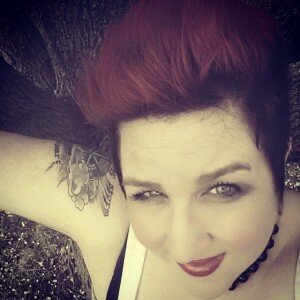 Avon grew up in the southern United States, and now lives with her very patient husband in a liberal midwestern college town. By day, Avon is a hair stylist who loves her job, her clients, and the opportunity to spend her time being creative and making people happy and look fabulous.
When she's not writing, she's either doing some kind of craft project that makes a huge mess, reading, watching horror movies, listening to music or yelling at her favorite hockey team to get it together, already. Avon is always up for a road trip, adores Kentucky bourbon, thinks nothing is as stress relieving as a good rock concert and will never say no to candy.
At one point, Avon was the mayor of both Jazzercise and Lollicup on Foursquare. This tells you basically all you need to know about her as a person.
 Website Newsletter GoodReads Blog More Reviews