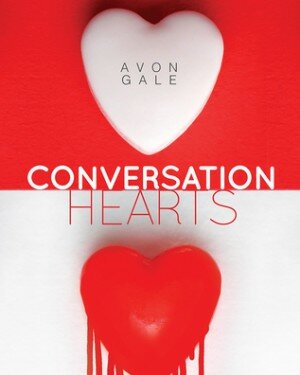 Title: Conversation Hearts
Author: Avon Gale
Publisher: Dreamspinner Press LLC
Release Date: February 10, 2016
Genre(s): Contemporary
Page Count: 31 pages
Reviewed by: Belen & CrabbyPatty
Blurb:

It's Valentine's Day, and grad student—and male escort—Levi Barron expects to spend his evening with a client who's paying him for his services in bed… not an assassin who needs to borrow the view from his hotel room in the morning.

With nothing to do but endure the company of his unwanted guest, Levi and the assassin, Sinjin, spend some time bonding over HGTV, minibar beverages, Flannery O'Connor short stories, terrible Valentine's candy, and the necessity of lying about their jobs.

Their evening takes an unexpected turn when they decide to indulge in their mutual attraction, and in the morning Levi doesn't know if he's spent the night with a hired killer or a hydraulic engineer with a very specific fantasy. Either way, the two have enough chemistry—in and out of bed—that Levi isn't sure one night with Sinjin will be enough.

And a message left in candy suggests the feeling is mutual.
Exclusive Exerpt
"So, you're… like, an escort?"
"Yeah. Male escort. Sex for hire. Rent boy. Whatever, that's what I do." He amended, "Just part time, though. When I'm not in school." Levi wondered why he was being so defensive. It's not like his was the more morally objectionable career choice here.
"School?" Sinjin raised his eyebrows.
"I'm getting my PhD."
"In what, sex?"
No wonder they sent this guy to kill people from a distance. Absolutely no social skills whatsoever. "American Literature, actually. My specialty is Southern Gothic. I'm studying Flannery O'Connor. She was—"
"I know who she was," Sinjin said, and then he surprised Levi by reciting, "She would've been a good woman, if there'd been someone there to shoot her all her life."
The quote was from the short story "A Good Man Is Hard to Find" and was spoken by a serial killer about an old woman he later shoots to death in the woods. "Thanks for quoting that. I feel a lot better about being kidnapped—sorry, held hostage—now."
"No problem. You know, I always wanted to use 'The Misfit' as a code name."
"Yeah? What stopped you?"
"I never needed one. What are you going to do with an English degree?"
Levi had been asked that question a thousand times, but never by a hired killer.
Belen's Review CrabbyPatty's Review
Buy Links
About Avon
Avon Gale wrote her first story at the age of seven, about a "Space Hat" hanging on a rack and waiting for that special person to come along and purchase it — even if it was a bit weirder than the other, more normal hats. Like all of Avon's characters, the space hat did get its happily ever after — though she's pretty sure it was with a unicorn. She likes to think her vocabulary has improved since then, but the theme of quirky people waiting for their perfect match is still one of her favorites.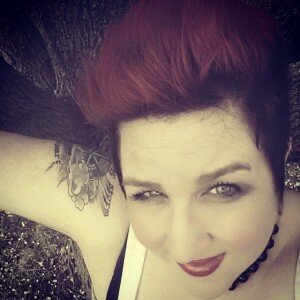 Avon grew up in the southern United States, and now lives with her very patient husband in a liberal midwestern college town. By day, Avon is a hair stylist who loves her job, her clients, and the opportunity to spend her time being creative and making people happy and look fabulous.
When she's not writing, she's either doing some kind of craft project that makes a huge mess, reading, watching horror movies, listening to music or yelling at her favorite hockey team to get it together, already. Avon is always up for a road trip, adores Kentucky bourbon, thinks nothing is as stress relieving as a good rock concert and will never say no to candy.
At one point, Avon was the mayor of both Jazzercise and Lollicup on Foursquare. This tells you basically all you need to know about her as a person.
 Website Newsletter GoodReads Blog More Reviews