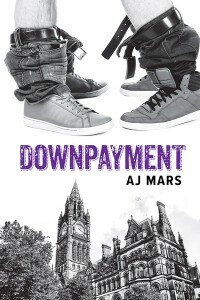 Title: Downpayment
Author: A.J. Mars
Publisher: Dreamspinner
Release Date: February 15, 2016
Genre(s): Contemporary
Page Count: 200
Reviewed by: Kristin
Heat Level: 3 flames out of 5
Rating: 2.5 stars out of 5
Blurb:
Mike Barrow and his friends are among many boys in Manchester who think the city will be their chance to improve themselves. But for now Mike is living in a damp flat with his friend Callum, and they're both making ends meet by working the streets. When Mike meets Chris Wildsmith, a late-twenties entrepreneur, he thinks he's hooked a job that will pay his rent for several weeks—a windfall already.

But his connection with Chris quickly goes beyond what's normal between rent boy and client. Mike meets Chris's friends, goes to Chris's parties with him as his "boyfriend," and finds himself swept up in a world he's never known. He's sure it's all going to go horribly wrong, and when Chris's work colleague figures them out and becomes violent, he's almost proven right. But Mike isn't the only one who has confused professionalism with something else. The breakup that follows gives Mike the impetus he needs to relaunch himself as somebody else, a man who will hopefully be someone Chris very much wants to be with.
This was well written, but too similar to Pretty Woman for my tastes which bumped it down under three stars. I prefer a bit more originality in my books, especially when it comes to the Cinderella trope. Or now Pretty Woman trope, I suppose.
Some things that hit too close to the movie, and granted, it's been a few years, but there was a fair amount of deja vu going on:
• No kissing on the mouth comment
• Starts out with a blow job
• Awkward dinner but with artichokes instead of snails
• Shopping trip complete with snubbing snooty store
• Unwanted attention drawing attention to the prostitution profession
The ending deviated from the movie, but by that point I was fully expecting the HEA and it was a matter of the plot spooling out. I don't want to give away what few spoilers there are, but I did question both character's actions at the ending. Given the strong feelings for each other, what happened and how it played out kinda didn't make sense.
I will say, I liked the humor in the book and I felt that was Downpayments strong point. The one liners, the quips, the snark all brought a smile or chuckle. Mike's internal dialog, his view of the situation, his emotions pinging all over the place are what really carried the story. Personally, I didn't care for Mike's flashbacks, if they could be called that, but that is totally my quirk. But Mike's humor and outlook – yes, that worked.
Amazon Global
Author Link
GoodReads
 More Author Reviews
Advance Review Copy
Galley copy of provided by in exchange of an honest review.