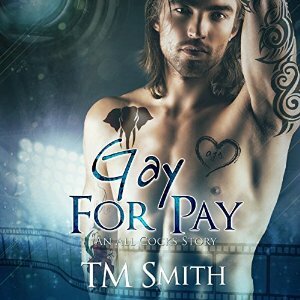 Title: Gay for Pay (All Cocks Stories #1)
Author: T. M. Smith and Tony Clark (Narrator)
Publisher: TTC Publishing
Release Date: January 12th 2016
Genre(s): M/M Contemporary Erotic Romance
Length: 4 hrs and 27 mins
Reviewed by: Belen
Heat Level: 4 flames out of 5
Rating: 3.25 stars out of 5
Blurb:
Christopher Allan Roberts thought he had a promising future; Captain of the football team with the promise of a scholarship to play for Alabama. His high school sweetheart and best friend for as long as he could remember, Amanda, by his side, and the love and support of his family. One night, one mistake changed everything. Chris moves to New York, adrift and alone. A walk one night brings him to the flashing lights, loud music and thrumming bodies at club Berlin. A flyer in the men's room promises fame and fortune for anyone willing to go on camera and have sex, with another man. Money is money, and how hard could it be, right?

Christopher Allan Roberts becomes Kris Alen, All Cocks newest addition, a gay for pay porn star.

Lincoln Carter is honest with everyone in his life, including his family, about who he is and about his sexual preferences. Linc Larson, the openly bi-sexual gay porn star will do anything with anyone, which pretty much writes his ticket in a versatility charged industry. It's not his sexuality that interferes with his personal life; it's his inability to trust.

What Linc wants right now, more than anything, is the chance to do a scene with All Cocks newest acquisition, Kris Alen. Six foot two with Auburn hair, an exquisitely toned and inked up body, Kris Alen is sex personified. Linc doesn't know if it's the "I want the shiny new toy" aspect that calls to him, or the distant and wounded expression that haunts Kris's eyes.

Linc figures out early on that Kris is only working the gay for pay angle that All Cocks brings to his bank account. Can a bi-sexual man with trust issues break down the barriers that Kris has built around himself and help Christopher overcome the painful past he is running from.

Gay for Pay is a gay for you story about two men that will have to come to terms with the mistakes they made in their past, if they want to stick around and have a chance at a future.

In 2010 Christopher Allan Roberts had the world at his feet. He was a young football star with a full ride to the University of Alabama, popular,lots of friends, a loving family, and a gorgeous girlfriend who thought the sun rose and set on him. In a single night the decision to drive while drunk ruined it all.
Five years later, after the trial, and after a spiraling period of drugs and alcohol, Chris's best friend Michael convinces Chris to get out of Alabama and move with Michael and his boyfriend to New York. Chris ends up sleeping on Michael's couch for a while, because it's hard to find a job when you have an involuntary manslaughter conviction on your record. Then one night Chris is walking around when he ends up in Club Berlin and sees a flyer looking for models for gay porn – with the note that being gay isn't a requirement.
Chris ends up going to work for All Cocks as their newest gay for pay porn model "Kris Alen". He does well and life begins to ease somewhat. Though life becomes more interesting and more complicated once he finds himself interested in one of the other models, Lincoln Carter.
I enjoyed the story for the most part. My main complaint is the story jumps from 2010 to 2015 with very little information given about the time in between. For example, it mentions a trial, but I don't remember it mentioning whether or not Chris went to jail. I wish I'd gotten a little more information and background. I felt like that would have given me a better grasp of the character. Other than that, I liked the setup, the supporting characters, that there's definitely a plot, and not all porn (which was great) and I definitely wouldn't mind continuing the series.
For the narration, I'll admit I did have some trouble following along, mostly because I kept getting pulled out of the story by Tony Clark's pacing, tone, tempo, character voices. It's not that Clark does a bad job, I've heard worse believe me, but I didn't connect with him as the narrator.
Bottom line: A quick, entertaining story with heat, but definitely check out the sample of the narrator before buying the audio.

Buy Link Amazon Global Author Link GoodReads More Author Reviews