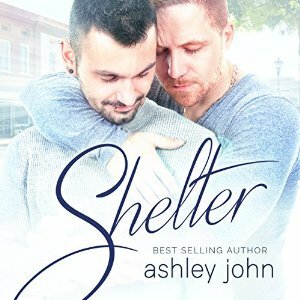 Title: Shelter
Author: Ashley John
Publisher: Self-Published
Narrator: Derrick McClain
Release Date: October 11, 2015
Genre(s): Gay Contemporary Romance
Page Count: 304
Reviewed by: Dyllan
Heat Level: 3 flames out of 5
Rating: 4 stars out of 5
Blurb:

Fresh from his fourth stint in rehab, Elias James doesn't have much to live for. His relationship with his family has never been so strained and with no real life of his own, he has nothing to live for. His overachieving twin sister and his ruthless mother's political success as Mayor of Havenmoore has left him empty. Getting high started as an act of rebellion but the addiction soon controlled his every waking moment.

Aspiring writer, Caden Walker, thought he had the perfect life until he discovered his boyfriend in bed with his best friend. Leaving everything behind in New York, he returns to Havenmoore to re-evaluate his life from his parent's guest bedroom. When his mom offers him a job working for the charity she runs, helping people struggling with addiction, he's not in a position to turn it down.

Caden never expected to find what he did, but when he is assigned to work with Elias, a reluctant attraction quickly blossoms into something deeper. Can Elias find in Caden the one thing he's always searched for or will his addiction drag him under once again? Is Caden ready to let go of his New York dream to take a chance on something unexpected? Both men are faced with difficult times of change, but can they make it through the storm to find the shelter?
When starting this book, I wasn't sure what to expect. Even though I'm a hundred percent against drug abuse, and this is a fictional story, I wanted to get to know something about what happens on the other side. What drives a person to drink, smoke and do just about anything to get the next hit.
Elias: At first, he seems the poor rich boy. In theory, at least he had a good life growing up. His dad died before he and twin sister Elle were born.
They had a hard working mom, who a few years later becomes the mayor of Havenmoore. Judy, his mom is the picture perfect of a good mother, woman and mayor. The picture is just that, a real good show put on to the city she sees as hers.
Elias and his twin are polar opposites. Elle was the good student while Elias was picked on. She moved on to med school while Elias got so deep into drugs, he couldn't remember his name most of the time.
Elias is the first not to care about himself. It's his fourth time at rehab, and this time is court ordered, his other option lies behind bars. He's ready to face jail time, though, if it means getting a new line of coke as soon as he's out. After a conversation with his sister leaves him shocked to the core, he's finally ready to try to leave the addiction.
Caden: He's back in Havenmoore after living for five years in New York. His life is a walking, depressing bad cliché after another.
Strike One: He caught his fiancé cheating on him in his own bed, with his own best friend.
Strike Two: Working as a freelancer, he's out of job when he moves out of the not-so-shiny-anymore, Big Apple.
Strike Three: Caden is back in his old room, in his parent's house.
Three strikes and you're out. Right? Caden seems to think so. Even though he loves and is loved by his family, he can't help feeling he's walking backwards in his life. At his old age of thirty, he shouldn't be returning home and jobless.
With nothing in the near future in mind, and a lot of shoving from his mom, Caden starts working at her charity counseling drug addicted people.
With nothing in common, Elias and Caden start a friendship that feels like something else, but neither is exactly sure they could or even should get started, when what they have is already so tenuous.
Unexpectedly, they find in each other something they didn't know they were looking for and are suddenly complete. However, there is one person hell-bent on seeing both of them apart and scared.
Shelter was a well narrated story. Seeing that English isn't my first language, some audiobooks can be tricky. This one was great, I managed to understand each phrase, and knew which character was talking or thinking. In overall, a nice story I enjoyed. Ashley John was a new author for me, and I'm sure I'll be reading from him in the future!

 Amazon Global Author Link Narrator Link GoodReads


Win an Audio Book!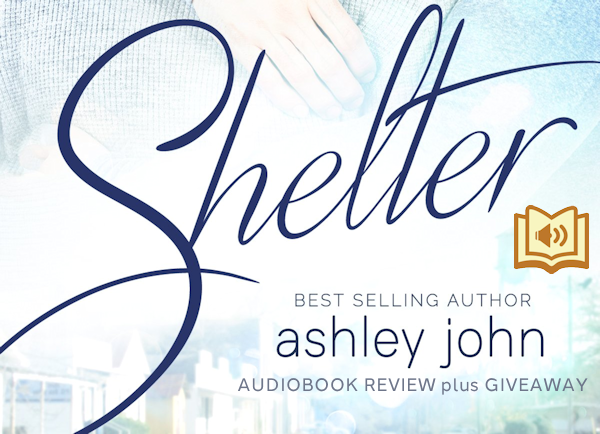 Enter to win an audio book from AUDIBLE! The winner will be notified via email on or after February 24, 2016
GOOD LUCK!
Congratulations to winner Kara!