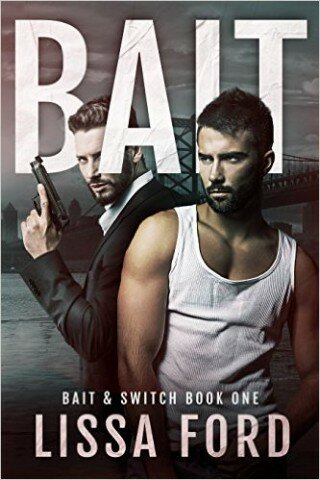 Title: Bait (Bait & Switch #1)
Author: Lissa Ford
Publisher: Lissa Ford Books
Release Date: February 18, 2016
Genre(s): Contemporary/Mystery
Page Count: 259
Reviewed by: Gigi
Heat Level: 3 flames out of 5
Rating: 3.6 stars out of 5
Blurb:

A good boy meets a bad boy. Someone's losing a halo.

FBI special agent Daniel O'Pray is a straight shooter both in and out of bed. But things get a little weird when Danny is tasked to be the bait in a sting involving the owner of Philadelphia's most notorious leather bar. One out-of-control moment with nightclub owner Alexi Romanov throws Danny into a tailspin—sexuality included.

Worse, Romanov is a prime suspect in an extortion ring Danny is investigating. And Danny can't get enough of him.

Danny has spent his life following the rules. So why does breaking them for Alexi feel so damn good? Lines are blurring, putting Danny's career and his life at risk. His heart, well, that's in jeopardy, too.

BAIT is a 77,000 word novel of romantic suspense. It is intended for mature audiences.

Danny O'Pray is a good boy. He is an FBI Special Agent coming from a family of multiple generation FBI Agents. He has big shoes to fill and wants to live up to his family's good name.
Alexi Romanov is a Russian immigrant who has made a place for himself in the business world as the owner of an exclusive gay-themed nightclub. His past is shrouded in mystery and questionable decisions.
The FBI is after Alexi because they think he is heading up an extortion ring. The case turns into something much more serious, but the fact of the matter is that Alexi is a POI (person of interest) for the FBI. Danny having ANY type of relationship with Alexi would spell career-suicide for him. But Danny throws caution to the wind and starts a sexual exploration of sorts (Danny has never been with a man, save one kiss in his youth) with a man that may be involved in blackmail, extortion and sex slavery. You'd heard of insta-love, but this was a case of insta-lust. And given all we'd already learned about Danny and his dedication to his career, I didn't buy it. I failed to see the passion being all-consuming for Danny, enough to jeopardize everything he has worked his whole life for.
While I didn't buy it, I did go along with the story, suspending my disbelief. I enjoyed the mystery and the investigation very much. I really liked Danny, a salt-of-the-earth kind of guy. He had some great interactions with his beloved family, especially his old Grammie, a Special Agent during the Cold War. I never did warm to Alexi. We was never good enough for Danny in my eyes.
To those who are familiar with Lissa Ford's other books, including my personal 5 star read Doubleback, she writes one hell of a sex scene. But we didn't get that here. These two share a middle-of-the-night blowjob/handjob and a quick and messy mutual jerk-off session. And that is all. No other intimacy. No sleep-overs. No pillow talk. I was pretty bummed out about that. But this story is really about the story itself, an investigation into a blackmail/extortion/sex slave case. The relationship was a side note more than the focus.
Fans of Lissa's will certainly like this one. It has action and mystery and a incredibly likable main character. I'm sure many will be able to feel the simmering passion between Danny and Alexi. And I really loved the last 5% of the book, when everything finally came together.
If you like a good FBI story and mystery with a gay relationship on the side, you will love this one. Others, I recommend with caution. If you need lots of sex and passion, this isn't the book for you.

 Amazon Global Author Link GoodReads More Reviews

Advanced Review Copy
Galley copy of provided by
the author
in exchange of an honest review.