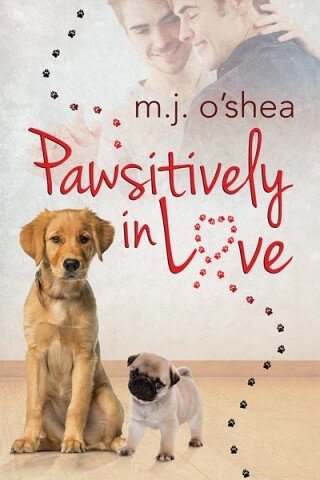 Title: Pawsitively in Love
Author: M.J. O'Shea
Publisher: Dreamspinner Press
Release Date: March 4th 2016
Genre(s): Contemporary Romance
Page Count: 200 pages
Reviewed by: Lili
Heat Level: 2 flames out of 5
Rating: 3 stars out of 5
Blurb:
What Austin Lloyd lacks in academics, he makes up for in his love of the animals who frequent his pet salon. He's not lucky in romance, though, and his family would like him to settle down with a good man. Austin—and his golden retriever, Maggie—couldn't agree more.

Evan Partridge isn't good at letting people in. His messy family life and the past that's shaped him aren't worth bringing up. But his pug, Dexter, sure likes the pet salon owner.

Austin and Evan get off to a rough start, but being friends soon turns into something more. Unfortunately, Evan's secretive behavior nearly does the relationship in, and the budding love affair almost crashes and burns when Evan's troubled sister shows up on his doorstep.

Not speaking to each other is killing them both, but Evan doesn't know how to keep Austin and help his sister at the same time. He just knows he has to try. Winning back Austin's trust back, however, is going to take a whole lot of work.
This book was-

My highlights:
*Dexter, Evan's pet pug. He was the star of this book. He was endearing, and it was impossible not to fall in love him and want him as a family pet.
*Austin. His love for animals and gentle nature made him instantly attracted me to his character.
*Maggie, Austin's golden retriever.
*I enjoyed the relationship progression from enemies to friends to friends to lovers.
What brought the book down:
*Evan. He was a bit too much of a jerk for my taste, and I was unable to connect fully with his character. His hot and cold attitude towards Austin got old quick.
*The drama at the end. It just unraveled the plot and not in a positive way. It was unnecessary. I probably would've rated this book higher if this hadn't been added to the story. I don't like needless drama added just for the sake of adding conflict.
All in all, I'd give this one 3 Stars.

 Amazon Global Author Link GoodReads More Author Reviews

Advanced Review Copy
ARC kindly provided by to Gay Book Reviews for an honest review.