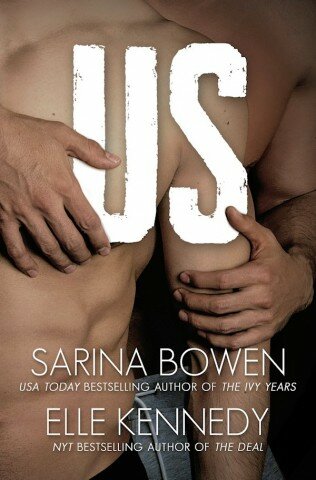 Title: Us (Him #2)
Author: Sarina Bowen & Elle Kennedy
Publisher: Rennie Road Books
Release Date: March 8, 2016
Genre(s): Contemporary/Hockey
Page Count: N/A
Reviewed by: Vallie
Heat Level: 4 flames out of 5
Rating: 3.5 stars out of 5
Blurb:

Can your favorite hockey players finish their first season together undefeated?

Five months in, NHL forward Ryan Wesley is having a record-breaking rookie season. He's living his dream of playing pro hockey and coming home every night to the man he loves–Jamie Canning, his longtime best friend turned boyfriend. There's just one problem: the most important relationship of his life is one he needs to keep hidden, or else face a media storm that will eclipse his success on the ice.

Jamie loves Wes. He really, truly does. But hiding sucks. It's not the life Jamie envisioned for himself, and the strain of keeping their secret is taking its toll. It doesn't help that his new job isn't going as smoothly as he'd hoped, but he knows he can power through it as long as he has Wes. At least apartment 10B is their retreat, where they can always be themselves.

Or can they? When Wes's nosiest teammate moves in upstairs, the threads of their carefully woven lie begin to unravel. With the outside world determined to take its best shot at them, can Wes and Jamie develop major-league relationship skills on the fly?

Warning: contains sexual situations, a vibrating chair, long-distance sexytimes, and proof that hockey players look hot in any shade of green.

The first book in the series, Him, was childhood friends-to-lovers perfection, and went straight to my favourites shelf. I was absolutely dying to read the continuation of Wes and Jamie' story. And I hate when this happens, but sadly, I didn't love the sequel as much as I loved the first book.
When Him ended, Jamie had accepted a rookie position on a Canadian hockey team, with the understanding that the team's PR firm was fully aware of Wes' sexual orientation and of his relationship status. I mistook that for the team members being aware also. Not the case. Wes and Jamie are "roommates" and Jamie, who's coaching teens, has agreed to support Wes keep a low profile until he's a fully established member of the team. I was so happy to see those two together again because as far as fictional characters/couples go, they have the trifecta for me: childhood friends-to-lovers, off the charts chemistry, and feelings, so many feelings! When Us started, there was a glimpse of all that magic, but then everything fell apart.
The hiding, the intrusive teammate who imposed on their personal time, their perceived inability to set boundaries with the outside world/obligations in order to protect their personal time, medical drama (I loved that part), lack of communication, and avoidance, led Wes and Jamie to drift apart to the point where both of them contemplated breaking up at some point. I am down with putting established couples through the wringer and have the relationship sort of reinvent itself. But the issues Wes and Jamie had seemed to have been caused by external factors, contrived situations meant to create drama, and thus didn't feel genuine to me. I saw it more as a clusterfuck of unfortunate circumstances rather than legitimate problems between them and that was annoying. They had so much love for one another and yet seemed incapable of controlling their environment as least enough to sort out the mess between them.
There was a lot more angst in this book but the avoidance and the distance developing between them, partly because of Wes' travelling and partly because of them not opening up to each other made the atmosphere very melancholy and negative. I wanted to see them desperate to be together and there were parts of the book that did that, like with the medical drama, but it took over half the book for them to start showing what they mean to each other.
They did get a HEA of course and their love for each other conquered all in the end. Overall, I enjoyed reading this book but I wish there had been more of the spark of the first book. I would still recommend it to fans of the series but, as a sequel, it wasn't all I was hoping for.
Him Series

 Amazon Global Author Link Author Link GoodReads More Author Reviews

Advanced Review Copy
Galley copy of provided by the authors in exchange of an honest review.