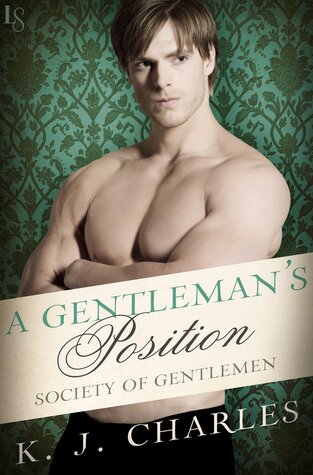 Title: A Gentleman's Position (Society of Gentlemen #3)
Author: KJ Charles
Publisher: Loveswept
Release Date: April 5, 2016
Genre(s): Historical Romance
Page Count: 253
Reviewed by: Renée
Heat Level:  4 flames out of 5
Rating:  5 stars out of 5

Blurb:
Power, privilege, and the rigid rules of class leave two hearts yearning for connection in the sizzling new Society of Gentlemen novel from K. J. Charles.
 
Among his eccentric though strictly principled group of friends, Lord Richard Vane is the confidant on whom everyone depends for advice, moral rectitude, and discreet assistance. Yet when Richard has a problem, he turns to his valet, a fixer of unparalleled genius—and the object of Richard's deepest desires. If there is one rule a gentleman must follow, it is never to dally with servants. But when David is close enough to touch, the rules of class collide with the basest sort of animal instinct: overpowering lust.

For David Cyprian, burglary and blackmail are as much in a day's work as bootblacking—anything for the man he's devoted to. But the one thing he wants for himself is the one thing Richard refuses to give: his heart. With the tension between them growing to be unbearable, David's seemingly incorruptible master has left him no choice. Putting his finely honed skills of seduction and manipulation to good use, he will convince Richard to forget all about his well-meaning objections and give in to sweet, sinful temptation.

Includes a special message from the editor, as well as an excerpt from another Loveswept title.
5 starred historical perfection!
I've been dying for Richard and Cyprian's story since Book 1. I knew, I just knew someone would knock Richard on his ass, and the elusive David Cyprian was going to prove to be such an awesome character to unravel. This book proved to live up to all my expectations for these two!
David is Richard's valet, his right hand man, his go-to person who gets everything done – everything! Richard's previous relationship with Dom left him unwilling to trust himself or someone else with his heart. David has fallen for Richard over the last 4 years that he's been in his employ. And Richard, well, he's hiding things well.
This book starts off with a bang in Chapter 1 where we get David's POV and get to experience his feelings for Richard for the first time. Charles is a superb writer! She sucked me in from this moment, and I got all the feelz from the word GO.
Because if David Cyprian had been asked to define his own particular hell, it would be night after night in Lord Richard's bedroom, night after night undressing him with murmured words and infinite care and then walking away to an empty room, again, alone.
Switching POVs was the best choice for Charles, and as we get into Richard's head, we see his vulnerability, his hesitancies, when all he shows his friends and the rest of the world a sure-minded rock. And we see the age-old conundrum of social class:
"If things were otherwise, if you and I were on a level – But we are not, and that means it is wrong."
Richard lives in a black and white, right or wrong, mindset with no area for gray. It's bad enough he has to hide his sexuality, but bring in preconceived notions about social class, and he is fairly unwilling to budge to pursue things with David.
The rest of the story sees a tragic hit to Richard's stony exterior, and he's forced to live day to day without his David, his right hand, his everything. Puts things into perspective!
"Would it have been so impossible to put aside pride of place and demands of rank in the bedroom if you were do very fond of him? Why must you live on that damned superior pedestal?"
Charles's writing was the best I've read in this book. While there were subplots going on around them, like family issues and the risk of jail time from an incriminating letter, the balance was brilliant. We never lose the connection between these two men and the progression of their relationship.
Some hard lessons are taught, on both sides, and the ending was everything I could've wanted and more. Brilliant writing and storytelling! Highly recommend!
Society of Gentlemen Series
Author Link
GoodReads
 More Author Reviews
Advanced Review Copy
Advanced review copy of A Gentleman's Position provided by publisher through NetGalley in exchange for an honest review.