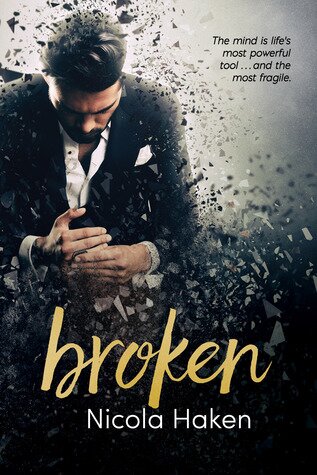 Title: Broken
Author: Nicola Haken
Publisher: Self-Published
Reviewer: Jaime
Release Date: March 2016
Genre(s): M/M Contemporary: Office Romance/Mental Heatlh
Page Count: 250 Pages
Heat Level: 4 flames out of 5
Rating: 5+ stars out of 5
Blurb:

When Theodore Davenport decides to switch his mundane job for a career, he walks into Holden House Publishing with enthusiasm and determination to succeed. As he settles into his new role, makes new friends, and dreams of making it to the top, everything is going to plan.

Until he meets James Holden, CEO of Holden House.

James Holden hasn't been able to stop thinking about his encounter with the timid man he met in a club bathroom last week, and when he discovers the one haunting his dreams is an employee, he can't seem to stop himself from pursuing him.

Just a little fun – that's what James tells himself. He can't afford to care for someone who can never reciprocate, not once they find out who he really is. James believes nobody deserves the burden of being attached to him. He's a complicated man. Damaged. Difficult. Demanding.

Broken.

Is Theodore strong enough to confront James' demons? More importantly, is James?

(M/M romance. Not suitable for readers under 18 years of age due to language and sexual content. ***Please note*** This book contains scenes of self harm, mental illness and suicidal ideation which may pose as a trigger, or be uncomfortable for some readers.)

5+ Stars ~ Blew me away!!!!
This was an amazing book! When I started the book I was like.. "Wow! What have I got myself into.. " and that was before I even got to chapter one! All I can say is hang on cause this book is going to blow. You. Away. Nicola Haken is a great writer, she brings depth and emotion to her characters, making them multidimensional and allowing them to come alive in the readers mind! The MC in this book are Theodore and James. James is CEO of Holden Publishing house, he is a man who sleeps with anyone and doesn't give a damn what people think about him. Theodore, he is ecstatic when we meet him – he has just landed a job in a publishing house and he is ready to pursue his dream career with everything he has. Until he see's his CEO. Then its all over.
These two are attracted to each other like magnets, even if Theo won't fully admit it. Theo thinks James is Damaged. Difficult. Demanding. Whereas James just thinks of himself as, Broken. As these two get to know each other they have to wonder if all the trouble is worth it or should they just cut their losses and simply be employer-employee?
This is an amazing book full of so much raw emotion that it gripped me and wouldn't let up. I felt like I was watching a movie in my head and I wanted to just jump in the book and give James a huge hug. Lots of FEELz in this book.. both good and bad.
5 Stars —
**Please listen to the author's warning regarding potential trigger topics. If you have depression and/or have been suicidal this book might be too much for you. Please go into it with caution.

 Amazon Global Author Link GoodReads More Author Reviews

Advanced Review Copy
Galley copy of provided by
Author
in exchange of an honest review.