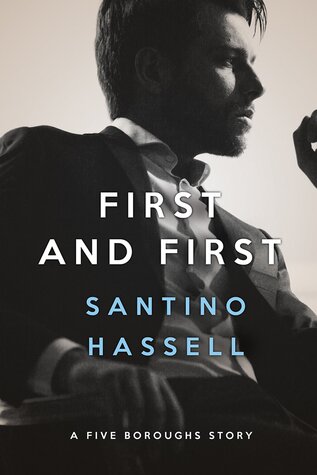 Title: First and First (Five Boroughs #3)
Author: Santino Hassell
Publisher: Dreamspinner Press
Release Date: April 18th 2016
Genre(s): Contemporary Romance
Page Count: 244 pages
Reviewed by: Lili
Heat Level: 4 flames out of 5
Rating: 5+ stars out of 5
Blurb:


Caleb Stone was raised on the Upper East Side, where wealth and lineage reigns, and "alternative lifestyles" are hidden. It took him years to come out to his family, but he's still stuck in the stranglehold of their expectations. Caleb knows he has to build his confidence and shake things up, but he doesn't know how… until Oliver Buckley enters the picture.

Oli is everything Caleb isn't—risk-taking, provocative, and fiercely independent. Disowned by his family, Oli has made his own way in the world and is beholden to no one. After a chance encounter on New Year's Eve, Caleb is smitten.

As Caleb sheds the insecurities that have held him back for years, he makes bold steps toward changing his career and escaping years of sexual repression. But for Caleb to take full control of his life, he has to be brave enough to confront his feelings and trust Oli with his heart.


Santino Hassell is a master storyteller. When I open his stories, I immediately become engrossed in the characters and the world in which he has created for them. He has some of the (if not the) best character and relationship development out there. I lose track of time and life around me and want nothing more than to get lost in his words.
When I found out, Oli and Caleb were the next couple to get their story I was excited because it's a Santino book but not necessarily because it was them. But as I started reading I found myself connecting and relating with Caleb (not the money part- like at all). I'm in my mid-30s and still don't have a fucken clue with what I really want to do with my life. I understood his frustration, despair, and disappointment.
Then we had Oli. Oli, who has fought to, be where he's at, and he's unapologetic about who he is and the choices he makes. I think many of us wish we had his confidence and the bravery to just flip the world off and be unaffected by other's perceptions of ourselves. There was something almost liberating about his character.
And the way he brought them together, it was pure genius. All of their interactions were entirely calculated to contribute to each man's character growth and their romantic relationship. I was in awe of how well it all tied in. Even their sexual relationship was vital to the story. The play on words with the title. Just-


First and First is going on my Best of 2016 List. It just doesn't get much better than this. The execution of this book was perfection. 5+ Stars.


Five Boroughs Series

 Author Link GoodReads More Author Reviews

Advanced Review Copy
Galley copy of provided by in exchange of an honest review.