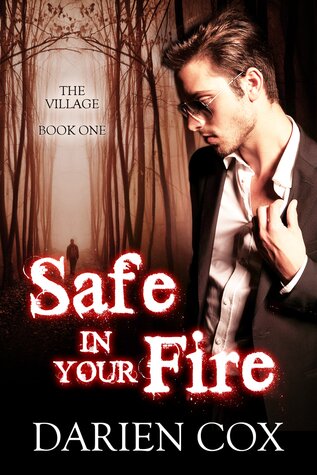 Title: Safe in Your Fire (The Village #1)
Author: Darien Cox
Publisher: Self-published
Release Date: March 31, 2016
Genre(s): Contemporary/Sci-Fi
Page Count: 278
Reviewed by: Renée
Heat Level:  4 flames out of 5
Rating:  4.1 stars out of 5
Blurb:
Welcome to The Village – A new gay romance series with a sci-fi twist from best selling author Darien Cox.

When asked to locate and interview an off-the-grid former child star for a magazine feature, novice journalist Rudy Sansone thinks he's getting yet another demeaning assignment from his boss. But finding 'Baby James' Waterman proves to be a personal and professional challenge, as the elusive, hostile, and surprisingly sexy James is nothing that Rudy expected. But Rudy's scrappy motivation to get the story at all costs plunges him into the mountain community of Singing Bear Village, where he senses strange and frightening secrets simmering beneath the surface. But what's simmering between Rudy and his reluctant interview subject is something more carnal and heated, and his desire to be consumed by it clouds his judgement when warning bells urge him to flee the village and never look back.
I enjoyed this. I am a HUGE fan of Darien Cox, who has only written contemporary before. So huge a fan, that s/he is an autobuy author for me. But I have to admit that when I read the blurb and heard of this "sci-fi twist," I was a little nervous.
I don't really do sci-fi mixed with romance. It's like ice cream and pizza. The two just don't mesh well.
But Cox didn't make this into a sci-fi thriller with romance. This book stayed firmly in the romance category with a sci-fi subplot, so I was FINE with that.
Rudy is an investigative journalist for a Boston magazine. He's been given an assignment he's not happy with – to find a hidden child star who hasn't been seen in the media for 10 years and do a "Where are they now?" piece.
James "JT" left his home at the age of 18 and never looked back. He doesn't want anyone to know where he is. He even changed his last name. He doesn't want Rudy poking into his business, his village, or his friends.
Rudy digs and digs and digs. JT calls it his "barracuda nipping." There is an instant attraction, but it's written smoothly so that there's no unrealistic jumping into bed. JT lives in The Village in upstate New York, and the setting really comes alive. The Village felt like a secondary character in this book, which I loved.
There are things that just feel off about the Village. Little things, that are easily explained away, keep happening. Nothing that'd ping your Run-for-the-hills radar, but would ping your WTF radar.
The first half of the book doesn't really introduce the sci-fi element at all, other than the weird shit. We spend that time in relationship building heaven with Rudy and JT. Another plus for the ice cream/pizza phobic in me.
When the sci-fi element hits, and I'll refrain from saying what it is, it didn't overwhelm the story. It became a bit of exciting subplot that I was able to roll with. It was handled realistically (don't roll your eyes at me!) in the sense that if it happened to me, I could see myself having the same freaked-the-fuck-out feelings that we experience from Rudy's POV.
The sex scenes were hot, with an abundance of dirty talk – yes please! – and the chemistry between our MCs was palpable. We do get a HEA here, and we even get several cameos of Ben and Peter from Seducing Professor Coyle! And no, they're not part of the sci-fi element in this book. Ben and Rudy went to college together and are now in their late 20s and remain friends.
Overall, I enjoyed this a lot, despite the sci-fi not being my "thing" to mix with my romance. I'll continue with the series as we learn who the next couple will be. I have my wish!
I'd say to give this one a try, even if you're not into the sci-fi element. Recommended.
Author Link
GoodReads
 More Author Reviews