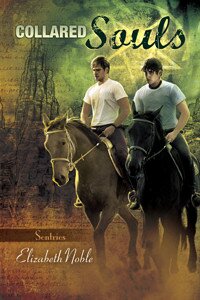 Title:
Author: Elizabeth Noble
Cover Artist: Paul Richmond
Publisher:
Buy Link:  Collared Souls,
Genre: M/M Science Fiction/Paranormal
Length: Novel
Rating: 4.5 stars
A Guest Review by Sammy
Review Summary: A smashing good fourth installment of the Sentries series by Elizabeth Noble.
Blurb: Freedom is within reach for Todd and Nick Ruger, but their dreams of Elk's Ridge are dashed by Vice-Chancellor Raleigh's troops. With his mate imprisoned, Nick searches for help and finds an unlikely and unexpected ally. But Todd's release leaves them once again in debt to Chancellor Clarke.
Their mission sends them to the small village of Eldrid in search of a historic record of owners and slaves with unique abilities. Eldrid holds even more secrets from the past—including the origins of sentries—as well as conspiracies of the present that are set to launch a new battle that will turn lover helplessly against lover. Though Todd and Nick know the realities of war are hard lessons, it will be a fight to draw on the strengths of their bond, survive, and learn to forgive.
Review: Tut tut…if you have been following this series and are coming here expecting me to divulge deep and well kept secrets–think again! (cue maniacal laugh) My lips are sealed. I am absolutely not going to spend a moment on the clever way in which Todd's father–yes Father! and Nicky get Todd free from prison. Yes, that would be the very father that hates Nicky completely!
I am also not going to speak at all about how poor Nicky has to return to the very place he was raised into his life of slavery and confront his old tutor who may just finally get what's coming to him! Yes, the same tutor that beat him with a riding crop so freely when Nicky was a child!
And, you can just forget about me breathing a word about the shocking revelation that the Pyrahni may in some way be in cahoots with the evil Raleigh and they may or may not be plotting the downfall of the government–and the way to possibly make that happen just may be found in that little book mentioned in the blurb.
Nope! My lips are sealed, dear reader! I am going to say this, however, if you are reading this review and you have not read the first three novels in Elizabeth Noble's Sentries series–turn away now. This is not a standalone novel and to truly enjoy and understand this fourth installment, you need to have read the first three. So, go–shoo! Get the first three and enjoy!!!
Are they gone?
Oh My Goodness…this was, yet again, another compelling and action packed novel starring our favorite mated sentries, Todd and Nick. With each step in this novel, Todd and Nick get closer and closer to realizing exactly how Sentries came into being, what the cause was for the rise of slavery in their world and just how easily the "special" or "gifted" slaves and their masters could be used to wreak total and complete chaos in the controlling of the government.
Once more, author Elizabeth Noble takes us further into the inner workings of the amazing world she has created in her Sentries Series. In this installment, Collared Souls, we see more and more of the deep bond of love that sustains and saves Todd and Nick from losing their grip on each other's hearts and souls while the world around them threatens at every turn to tear them apart.
Who to trust and where to turn for help becomes an elusive thing as these two young men battle paranormal beings, unscrupulous politicians and even their friends now become suspect in their nightmare chase for freedom from the war that threatens their world.
I love the fact that the world Elizabeth Noble created now four novels ago, remains not only intact but, like the peeling of an onion, reveals more and more layers each time. The author fully immerses you in the life that she has created for her two main characters and simply leaves you breathless as she pushes and pulls them pell-mell through one dangerous moment after another.
And all the while, the love and trust between these two grows and blossoms and Todd, in particular, begins to fully realize how much he needs his mate and the high cost of being Nicky's protector.
The only glitch I found in this story was with the reconciling of Nicky and Todd's father, John Ruger. John had such clearly defined hatred for Nicky–blaming him for all the danger that Todd found himself continually thrust into at every turn. The ending of this novel and John's reactions simply did not ring true for me–it was to easy, too forced. But, this point was truly minor in the overall scheme of things.
If you are a fan of this series, I encourage you to pick up this next installment by Elizabeth Nobel, Collared Souls–it will not disappoint!