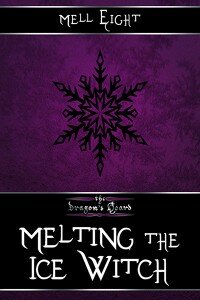 Title: Melting the Ice Witch
Author: Mell Eight
Cover Artist: London Burden
Publisher: Less Than Three Press
Buy Links:Amazon; Publisher
Genre: fantasy
Length: novella
Rating: 2.5 stars out of 5
A Guest Review by Larissa
Review Summary: a book with a promising blurb, but the actual story fell short of the mark
Blurb: The Tribe of the White Dragon has lived in the frozen wastes of the north for thousands of years, slowly dying without their dragon to protect them from the inhospitable cold. In desperation they kidnap Kam, hoping to use him to breed witch power back into the Tribe. But Kam is not a witch and there is nothing he can do to save them—until he sees the white dragon encased in ice and all alone.
Review: Having very much enjoyed the previous books in this series, I was very much looking forward to reading Melting the Ice Witch. In Stealing the Dragon we briefly met Lor when he kidnapped Jerney's sister and his story should have proved interesting. Unfortunately a shallow plot with less than worked out characters coupled with contradictions made that I couldn't enjoy this story as much as I hoped.
In Melting the Ice Witch we are introduced to Kam, who – like Jerney's sisters – was kidnapped by Lor to live with his tribe. Unlike most, Kam was a willing victim, since his life in the city was less than satisfactory and he felt at home with the tribe. He has a crush on Lor, the ice witch. Ice Witches were part of the treasure of the White Dragon, but are a dying breed. Only a few are left and they are needed to protect the tribe from the inhospitable cold of the North.
There is quite a bit of story there, which was interesting – especially that of the White Dragon – and both Lor and Kam are captivating characters, but it's all never fully worked out.
By the end, I was still waiting for it to take off. Part of the problem lies in the lack of background on our heroes. They suddenly are together, just like that. There is no conflict or bumps, other than Kam being clumsy. There is no flame, no obvious desire. It was hard as a reader to see any of the attraction between Kam and Lor or believe the romance.
Part of the problem also lies in the plot. It's flimsy, barely there and contradictonary. Kam and Lor go through a series of incidents that feel rather random and not part of a whole. The story starts getting interesting when Jerney and Tori show up. In fact they steal the show – and Kam and Lor's story. The story isn't told from their POV, but they do take over and it more or less feels like a continuation of their story and Kam and Lor get neglected.
The other thing that takes away from the story was the world-building. This is a fantasy world and with most fantasy worlds, you can make what you want of it or add to it what's most common on earth. Like coffee. For the most part I want my fantasy world to have some unique elements, but for the characters to eat hot cereal – something that is not easily travelled with or easy to make – seems unlikely. Just like the term "Red Light District" that seems just a tad bit out of place.
There was also the dialogue used between the older dragons. We've seen in before in the previous books, but it seemed both formal and informal at the same time:
"Very well. Thou must have dialogue with Nyle…"
It just didn't work for me, especially because one sentence is formal, like the above, and the next is like random people speaking on the subway.
It seems like I'm only saying negative things about this story. It wasn't all bad though. Tori showing up did wonders. He made me smile again with his innocent behavior and naiveté. It would be wonderful to see him all grown up! While this installment of the series didn't meet my expectations, I do hope the next one will be better.