One of the myths writers cling to is that once upon a time, in the good old days, all you had to do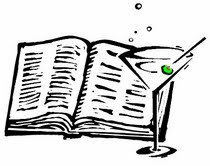 was write a great book and readers would find you. And it's undoubtedly true that with a fraction of the competition we have now, the chances of being discovered on merit alone were higher. But just like today — and just like tomorrow — literary merit has never been enough to guarantee discoverability.
The sad fact is, you can write a fabulous book, but if readers don't know about you, they will not read your fabulous book.
But with every writer out there screaming at the top of their lungs in an effort to attract the attention of readers, how do you stand out from the crowd? (Assuming you've already written the best book you have in you.) Well, you stand out through your own unique, original and inventive marketing and promotion efforts — which I can't help you with. And you stand out through recognizing the latest trends in social media and by getting there first — which I can help you with.
It's very simple. Doing the same thing everyone else does, is not the way to stand out.
The following is a list of a few new and newish social media venues for marketing books. These are venues where very few M/M Romance writers are lurking at the moment. That's good news because marketing to other writers — which is what most writers do — is not an effective use of your promo capital.
– Tumblr is not new, per se, but it's pretty much the hottest of the "old" social media sites. A cross between an old fashioned blog ring and super-mega cyber bulletin board, Tumblr skews younger and hipper than Facebook or Twitter. The boast is you can share "everything," plus you can do it under your not-real-name, meaning you can post as your alter ego or your characters. It's supposed to be all about creativity and collaboration. Music and mash-ups are huge.
Riffle – Riffle is kind of like for books. You create a profile and you then you create lists of book (covers) to share with reader friends. It was initially advertised as an alternative to Goodreads, but for the record, there is currently no real alternative to Goodreads. Riffle is fun though, and really easy to use, and it allows you to share your reading habits in different ways. It interfaces with both Twitter and Facebook, so you can share your lists with your existing friends and followers. But of course the goal is always to make new contacts.
Booklikes – Booklikes is also being touted as the next Goodreads. Why, you may ask, would you need another Goodreads? Especially a rather lame version? Because Goodreads is now so big and so unwieldy that it is all but impossible for new writers to gain a foothold there. All the main genre groups are formed and heavily populated, and new authors showing up announcing their Latest Big Release are pretty much old hat — if not a downright nuisance. No, you want to be in on the ground floor of new social media where you can create a name for yourself.
By the way, you can import your entire Goodreads library to Booklike.
BookShout! – "A social reading application that allows users to build community and share favorite quotations." It offers gift cards, promo codes, and author circles, but it remains a little vague as to what its real purpose is. Still, BookShout raised 6M from investors, so someone somewhere really, really believes in it.
– YouTube is also not new but it's being used in new and inventive ways beyond simply making a book trailer and inviting people to come and look at it. Instead, writers are creating channels, inviting subscribers, and creating much more complex content. The book trailers themselves are becoming much, much more elaborate. Old school YouTube is making a video of yourself reading from your latest book. New cool YouTube is making a video of you doing something from your latest book. Er…I'm thinking skydiving or cooking or trying a magic spell. Fun and funny is good. Taking yourself too seriously, not so much.
Wattpad – Wattpad and Figment are forums for posting original work in order to build "viral buzz." They are geared toward the under 25 crowd and are especially effective for writers of young adult and new adult fiction. In fact, Figment is geared toward teens. A number of writers, particularly spec fiction writers, have scored six figure book deals thanks to the response they've received on Wattpad (before you get too carried away, these are books that received millions of reads and thousands of comments). If you're writing young adult or new adult fiction, you might gain traction on Wattpad or Figment.
A couple of commonsense tips: remember to add value to the conversation. Remember to keep your interactions positive and productive. Be supportive and be social. The point is to make friends and influence people. Not take out your frustrations or show that you're smarter than everyone else. Don't over share. Don't over serve.
It's important to remember that you can't be everywhere all the time and still put the necessary attention and energy into writing new work — and writing new stories remains the number one single most important thing you can do to promote yourself. It's also kind of the point of everything. So pick a couple of social media arenas and make them your own. Be present and engaged in the venues you choose. If the only thing that ever shows up on Facebook are your tweets, then you're not really on Facebook, and you're not really interacting with your friends and followers, right?
And on the topic of friends and followers, it's not the quantity, it's the quality. Your goal is to create a positive emotional connection with readers. If you really are socially inept and not just being modest, you might be better off cultivating a reclusive authorly mystique and steering clear of social media. Either way, you need to track your progress so that you know whether what you're doing is working. If it's not working, you need to try new things.
Analytic tools to consider are Topsy, Social Mention, , or Sprout Social.
But don't get carried away. Don't go crazy. The clearest indicator as to whether what you're doing is working, are your sales numbers. If you're selling books, you're doing something right.