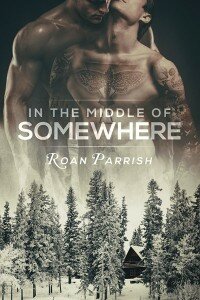 Title: In the Middle of Somewhere (Middle of Somewhere #1)
Author: Roan Parrish
Publisher: Dreamspinner Press
Release Date: July 10, 2015
Genre(s): Contemporary
Page Count: 350
Reviewed by: Gigi
Heat Level: 5 flames out of 5
Rating: 5+ stars out of 5
Blurb:

DANIEL MULLIGAN is tough, snarky, and tattooed, hiding his self-consciousness behind sarcasm. Daniel has never fit in—not at home with his auto mechanic father and brothers, and not at school where his Ivy League classmates look down on him. Now, Daniel's relieved to have a job at a small college in Northern Michigan, but, a city boy through and through, when Daniel arrives in Holiday, Michigan, it's clear that this small town is one more place he just won't fit in.

REX VALE clings to routine to keep loneliness at bay: honing his large, muscular body until it can handle anything, perfecting his recipes, and making custom furniture. Rex has lived in Holiday for years, but his shyness and imposing size have kept him from connecting with people. Though he loves the quiet and solitude of his little cabin in the woods, Rex can't help but want someone to share it with.

When Daniel arrives in Holiday, they are smitten with each other, but though the sex is intense and explosive, Rex fears that Daniel will be one more in a long line of people to leave him, and Daniel has learned that letting anyone in could be a fatal weakness. Just as they begin to break down the walls that have been keeping them apart, Daniel is called home to Philadelphia where a secret is revealed that changes the way he understands everything.

Can a scrappy professor, an intense carpenter, and a stray dog make a go of it in their cabin in the woods? Sometimes, you have to go to the middle of nowhere to end up exactly where you want to be.

WARNING: This review will contain some serious fangirling.
This book is by first time author Roan Parrish, but after reading this, you probably won't believe that. You might think, oh, Roan is just a pseudonym for N.R. Walker or Amy Lane or K.A. Mitchell or any of the talented authors who write fabulous warm 'n fuzzy, angsty, contemporary M/M romances. Because this book isn't just good. It's that good.
Daniel Mulligan is a bright and talented college graduate working on his dissertation. He needs a teaching job to get his feet wet in the academic community and make some money to pay off his enormous student loan debt. The pickings are slim and the only college who offers him a job is in a small town in Michigan. Daniel was born and bred in Philadelphia, so he is in real culture shock living in a tiny community where everyone knows everyone else's business. When he interviewed for the job six months ago, he made the acquaintance of a very large, gentle soul named Rex Vale. During this meeting, Rex shelters Daniel in his cabin after a minor fender-bender, sets and bandages a dog's leg that was hit by Daniel's car, cooks him real, honest to goodness food, provides him with clothes too large for him and a nice, a hot shower and a peaceful night on the couch watching movies and drinking whiskey. One thing leads to another and Daniel ends up kissing Rex in a drunken moment of venerability. While Rex does kiss him back, he refuses any other advances and puts Daniel in bed for the night. When Daniel wakes up, Rex is gone but leaves him coffee, toast and the number for a cab company for a ride to the airport.

Six months later, Daniel is back and getting settled into his new home (a pretty shitty apartment with a very uncomfortable bed) before he begins work at the local college as an English Professor. He has not been able to get the strong, silent Rex out of his mind during that six months and hopes to see him again. Soon.
Low and behold, Rex and Daniel do cross paths again when Daniel is out for a walk and Rex's dog (the one hit by Daniel's car) jumps on him and knocks him down. The passion that has been simmering in Daniel for six months comes to a head and the men end up getting each other off next to a tree.
It is slow going and weeks pass between seeing each other, but eventually these men start a relationship. The sex is great, the company pleasant and Rex helps Daniel with his homesickness for Philly.
We get to see the full progression of Daniel and Rex's relationship and the hurdles they need to jump through to make it work. There are a few bumps in the road, mainly relating to each other's family, but nothing they can't overcome together. The angst level is quite low for the most part. Also, this book is told entirely from Daniel's POV, so we get a lot more out of Daniel's character than Rex's. But it is an undisputed fact that these guys are crazy about each other.
OK, I am not even kidding a little bit. I honestly want to make a 6 stars shelf because I think this book might be too good for the Fuck Yeah, 5+ Stars shelf. The way these boys handle their feelings for one another, the way they are both good, honest people (not a mean bone in their bodies) and the love that comes through the pages is a masterpiece. I can guarantee you that you will fall head-over-heals for Rex and want him to be your pretend book boyfriend. And the epilogue is wonderful and leaves you thinking and knowing that these boys have reached their HEA.
I can HIGHLY, HIGHLY, HIGHLY recommend this book to just about everyone. The only people I can think of that won't like this one are folks who like the dark side of their M/M stories at the exclusion of all others.
Roan Parrish reminds me of other, newer authors who came out of the gate at full speed like Renae Kaye, Riley Hart, Leta Blake, River Jaymes.
I cannot WAIT to read her next book.
Shit, that was some serious fangirl vomit, huh?

 Author Link GoodReads

Advanced Review Copy
ARC of In the Middle of Somewhere provided by the author in exchange for an honest review.