This mini-interview with one of our contributors is brought to you in support of Queer Romance Month. QRM runs throughout October, celebrating love stories in all shades of the rainbow in all shades of romance.
Join us, and over a hundred LGBTQ+ authors and allies, for essays, flash-fiction and much, much more.
Gay Book Reviews is THRILLED to be hosting Roan Parrish, author of one of our favorite books, .
Roan Parrish: A Chat About Expanding Queer Genres and How the M/M Community Can Change the World (NBD)
1. A queer romance you'd recommend to a newcomer
, by Jordan Castillo Price. I adore when books do multiple genres and do them well. Channeling Morpheus is a dark, gothic horror tale; it's a revenge quest; it's a road trip story; and it's a smoking hot romance between an emo kid who's dedicated his life to killing vampires and the Billy vampire he falls in love with.

It's elliptical and controlled, making me desperate to know what transpired in the time between the alternating POV shorts. What is on the page is lush and evocative and gritty. I could feel the grime and smell the worn leather and taste the blood. A dynamite queer romance for folks who like genre fiction.
2. Recommend a book you love, but feel is under appreciated
Two queer YA reads that are delightful in and of themselves and would also be great to recommend to teens looking for queer fiction:

1. by J.C. Lillisis the story of two friends who drive across the country live-vlogging the cons for a sci-fi television show and find themselves falling in love. It's hysterically funny, incredibly sweet, and packed with enough geeky fandom to blow us all to Castaway Planet.

2. The Gives Light series by is set on a Plains Shoshone reservation where Skylar returns after his father disappears and where he meets Rafael, the son of the man who killed Skylar's mother and rendered Skylar mute. Skylar and Rafael's is the central love story in a series that's packed with multi-generational stories and is also deeply invested in telling a cultural and political history that's been overwritten.
3. Why is queer romance important to you?
Romance, as a genre, places emotion and connection at the heart of its stories. It operates under the assumption that our desires, our identifications, and our struggles are legible and deserve space on the page. Queer romance is essential because it both models and demands the similar centrality of queer characters' emotions and experiences in stories. And with that centrality comes the ever-increasing possibility for new stories, different stories, more particular stories.
4. Tell us about your book(s)
I want to write all the things! My first book, , is a contemporary romance about a snarky professor from Philadelphia who gets a job in small-town Michigan and finds himself falling in love for the first time with the shy but imposing man he meets there. It's the first in a series of three, and the second one, Out of Nowhere, will be out late this winter.

Next, I'm working on a series of spooky historical mysteries set at the fin de siècle that in conversation with Edgar Allan Poe's detective stories. They include: one languid Poe expert and opera enthusiast, one New York City detective fascinated by the new technologies of modernity, several murders, an abundance of sexual tension, and a great deal of gothic creeping.
Roan's contribution to Queer Romance Month – "A Chat About Expanding Queer Genres and How the M/M Community Can Change the World (NBD)" – will be published at queerromancemonth.com on 12th October.
"Stories are what introduced the world to me, made me feel like I had a chance in it, and like maybe I could use them to change it." —Roan Parrish
About Roan


Roan Parrish grew up in Michigan and lives in Philadelphia, but is always a few minutes away from deciding to move. A former academic, she's used to writing things that no one reads. She still loves to geek out about books, movies, TV, and music—now, though, she's excited to be writing the kind of romantic, angsty stories that she loves to escape into.
When not writing, she can usually be found cutting her friends' hair, wandering through whatever city she's in while listening to torch songs and melodic death metal, or cooking overly elaborate meals. One time she may or may not have baked a six-layer chocolate cake and then thrown it out the window in a fit of pique. She loves bonfires, winter beaches, minor chord harmonies, and cheese. But mostly cheese.
Website Our ITMOS Review GoodReads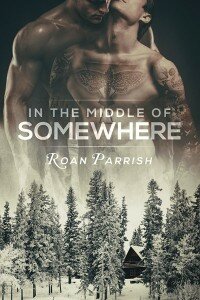 Title: In the Middle of Somewhere
Author: Roan Parrish
Publisher: Dreamspinner Press
Release Date: July 10, 2015
Genre(s): Contemporary
Page Count: 350
Reviewed by: Gigi
Heat Level: 5 flames out of 5
Rating: 5 stars out of 5
Blurb:

DANIEL MULLIGAN is tough, snarky, and tattooed, hiding his self-consciousness behind sarcasm. Daniel has never fit in—not at home with his auto mechanic father and brothers, and not at school where his Ivy League classmates look down on him. Now, Daniel's relieved to have a job at a small college in Northern Michigan, but, a city boy through and through, when Daniel arrives in Holiday, Michigan, it's clear that this small town is one more place he just won't fit in.

REX VALE clings to routine to keep loneliness at bay: honing his large, muscular body until it can handle anything, perfecting his recipes, and making custom furniture. Rex has lived in Holiday for years, but his shyness and imposing size have kept him from connecting with people. Though he loves the quiet and solitude of his little cabin in the woods, Rex can't help but want someone to share it with.

When Daniel arrives in Holiday, they are smitten with each other, but though the sex is intense and explosive, Rex fears that Daniel will be one more in a long line of people to leave him, and Daniel has learned that letting anyone in could be a fatal weakness. Just as they begin to break down the walls that have been keeping them apart, Daniel is called home to Philadelphia where a secret is revealed that changes the way he understands everything.

Can a scrappy professor, an intense carpenter, and a stray dog make a go of it in their cabin in the woods? Sometimes, you have to go to the middle of nowhere to end up exactly where you want to be.
Thank you for your time today Roan! We all can't WAIT to read Out of Nowhere!