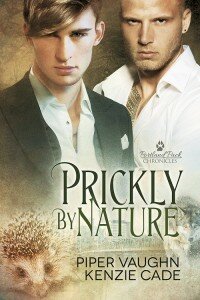 Title: Prickly By Nature (Portland Pack Chronicles #2)
Author: Piper Vaughn and Kenzie Cade
Publisher: Dreamspinner Press
Release Date: November 16th 2015
Genre(s): Paranormal, Mystery/Suspence
Page Count: 260 pages
Reviewed by: Lili
Heat Level: 3 flames out of 5
Rating: 4.5 stars out of 5
Blurb:
In the four months since hedgehog shifter Avery Babineaux started investigating the disappearance of a young female werewolf from the Portland Pack, he's discovered his life's passion. Now he's apprenticing under established PI Corbin Reid. Avery hopes his training with Reid will help him finally bring Lacey home, but detective work isn't without its perils, and the potential dangers strain his relationship with his new mate, Dylan.

Dylan Green would be perfectly content with his mating and his motorcycle shop if it wasn't for his constant worry about Avery's safety and the fact that Avery's never home. Proud as he might be of Avery's determination to prove his worth and fulfill his promise to Lacey's father, Dylan can't stand the thought of Avery being hurt. Yet what right does he have to demand Avery give up his job when it's clear Avery's found his true purpose? Still, Dylan wishes he could, and the appearance of a new police detective who sets his sights on Avery only adds to the tension.

Something has to give, but stubbornness runs in both their veins, and it might take a catastrophe for them to find a compromise they can live with.

Prickly By Nature is the sequel to Prickly Business and starts some months down the road. Our boys are in love, but there is still a mystery to solve and relationship dynamics to work through.



The highlights:
*Dylan. He just pushes ALL my buttons. I just love his protective instincts, he's so dominant. He makes me gush and feel all warm and fuzzy.
*Avery. I was very excited to read a more mature Avery. In the first book, he was borderline unlikable. There was lots of growing done.
*Their relationship. I enjoyed reading about them growing together as a couple and their chemistry is off the charts.
*Romance & mystery. It was well balanced. I am not a huge fan of mysteries- they tend to lose my attention. I was worried about this going in, but I think the authors did a nice job balancing both. The mystery kept me engaged and wondering through the end.
*The gang. I love series because I am a huge nerd that loves getting to know the characters and revisiting with them. It's nice to know that there's more coming from the other characters.
I felt that this book was even better than the first one. It had a bit of everything: romance, angst, action, suspense, wrapped up nicely with an HEA for the boys. It was well rounded. 4.5 Stars.

Author Link
Author Link
GoodReads