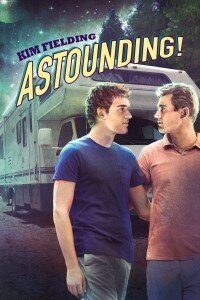 Title: Astounding!
Author: Kim Fielding
Publisher: Dreamspinner Press
Release Date: June 26, 2015
Genre(s): Contemporary, Science Fiction
Page Count: 210
Reviewed by: Jewel
Heat Level: 4 flames out of 5
Rating: 5 stars out of 5
Blurb:

Carter Evans is founder and editor-in-chief of Astounding!—a formerly popular spec fiction magazine currently in its death throes. Not only can he do nothing to save it, but stuck in a rat hole apartment with few interpersonal connections, he can't seem to do much to rescue his future either. And certainly all the booze isn't helping. He snaps when he receives yet another terrible story submission from the mysterious writer J. Harper—and in a drunken haze, Carter sends Harper a rejection letter he soon regrets.

J. Harper turns out to be John Harper, a sweet man who resembles a '50s movie star and claims to be an extraterrestrial. Despite John's delusions, Carter's apology quickly turns into something more as the two lonely men find a powerful connection. Inexplicably drawn to John, Carter invites him along on a road trip. But as they travel, Carter is in for some big surprises, some major heartbreak… and just maybe the promise of a good future after all.
"…it was — is — the most goddamn amazing thing that's ever happened to me. I don't have words for it. Nobody would. Not even you, Freddy. It was a revelation and a miracle and pure joy."
Astounding! is the first book by Kim Fielding that I've read and I'm wondering, right about now, what the hell took me so long? I loved this book! It was quirky and the characters were interesting and fun and the cover really reminds me of those old speculative fiction magazines from my childhood, which I very much loved.
Carter Evans is the owner and editor of a dying speculative fiction magazine called "Astounding!" and he is in a bad mental place because his baby is dying. He has devoted more than a decade of his life to his magazine, but it just isn't paying the bills anymore, so as much as he really hates to do it, it is time to let it go.
Every month for more than a year, Carter has received a manuscript from a J. Harper. It's drivel. Worse than drivel, even. And every month, Carter sends out the standard rejection letter. Except one time when he wrote what he really thought of it and sent a rather rude letter back to Mr. Harper. So, when Carter receives another manuscript the next month, that is basically just like all the others, it revives his guilty feelings for the last rejection he sent and Carter decides to apologize to J. Harper in person.
John Harper is a lot more than he seems, though. He's gorgeous, like a 1950's movie star, and he has a vintage style. He's such a nice guy that Carter feels even more guilty and from that guilt came a promise to print one of John's stories if only John will tell him why it is so important. And, though Carter doesn't not believe John's story about being extraterrestrial and just wanting to go home, he keeps his word and even likes John.
And that is where things get interesting. Meeting John really changes Carter. He stops drinking so much, and he gets into shape and he starts seeing life with a positive lens. He even decides to take his ex-boyfriend, Freddy and Freddy's current boyfriend Keith up on a vacation in a rental RV and, you know, live a little. And, when a last minute decision has Carter inviting John along, all the better.
I often don't really like ex's hanging around in my stories, but I really liked Freddy. He's so supportive and encouraging to Carter and that they are still such good friends is such a good thing. And mixing John in was wonderful.
The story was a bit magical in how John's nature really effected Carter and their inevitable separation felt fresh, and even a little final, even though you know everything will work out in the end. And the ending was so damn perfect! The happiest of happy endings, in my book.