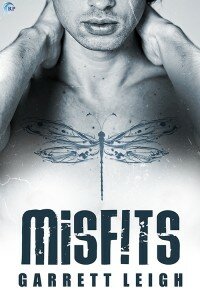 Title: Misfits
Author: Garrett Leigh
Publisher: Riptide Publishing
Release Date: March 16, 2015
Genre(s): Contemporary, Ménage
Page Count: 277
Reviewed by: Jewel
Heat Level: 5 flames out of 5
Rating: 5 stars out of 5
Blurb:

Restaurant owner Tom Fearnes has loved his partner Cass for as long as he can remember, but their work often keeps them apart. When he meets a striking young man named Jake on the vibrant streets of Camden Town, their heady first encounter takes an unexpected turn.

Jake Thompson can hardly believe his luck when he wakes up in Tom's bed. Tom is gorgeous, kind, and . . . taken. Tom's explanation of his open relationship leaves Jake cold, but Tom is too tempting, and when hard times force Jake to accept Tom's helping hand, he finds himself between two men who've lost their way.

Cass Pearson is a troubled soul. He loves Tom with all he has, but some days it feels like he hasn't much to give. Jake seems like the perfect solution. Cass risks everything to push Jake and Tom together, but Jake resists, wary, until the darkness of Cass's past comes to call. Then Jake finds himself the last man standing, and it's time to dig deep and shine a light for the men he's grown to love.

I think this is the best – and definitely the most believable ménage story I've read. It wasn't just about the sex, though the sex was definitely hot, and it wasn't just about the three of them as a unit, but also about Tom & Jake, Tom & Cass and Cass & Jake, too. There was instant attraction between Tom and Jake, but Jake's friendship with Cass came later, as did them becoming lovers. Falling in love was a bit gradual. The whole of their relationship felt really organic.
Tom and Cass have been committed partners for nine years. They both work way too much and are a bit adrift. Their background's couldn't be more different with Tom being a middle class boy and Cass being an Eastender with a criminal background. Cass sees Tom as being the person that holds him up. The one who loves him in spite of all his flaws. I don't think he really understands that Tom doesn't love him in spite of his flaws at all. Tom simply loves him – flaws and all.
Tom is a very nurturing guy. He needs to take care of those he loves. And he's never wanted anything more than to take care of Cass. Then, one night, Tom meets Jake and brings him home and the sex was spectacular. Tom doesn't want that to be all there is between him and Jake, and Cass is not so subtly pushing Tom in Jake's direction.
Jake is a bit troubled, too and reminds Tom a bit of Cass. Jake, like Cass, brings out the nurturing aspect of Tom's personality. Jake isn't at all on board with Tom and Cass having an open relationship, at first, anyway. It takes him considerable time to grok it and to come to terms with it. And as time goes on, he not only becomes Tom's lover, but Cass's friend. And then, later still, Cass's lover. Jake becomes the the anchor for both Tom and Cass.
I felt like their relationships with one another and then the three of them as a whole, developed in a very believable way. Tom and Cass are quite secure with each other, so sex with other people has never been an issue. Jake is different, though, in that it was never just sex. Tom really felt drawn to Jake, but not as a replacement for Cass, but rather in addition to Cass.
I've enjoyed ménage stories for quite a while now, but this one is definitely my favorite thus far. I felt that the author treated each of the characters with respect and they were very well drawn. The story gripped me, watching all three of them navigate uncharted waters and learn how to really be together.