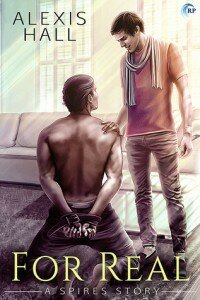 Title: For Real: A Spires Story
Author: Alexis Hall
Publisher: Riptide Publishing
Release Date: June 1, 2015
Genre(s): Contemporary/BDSM
Page Count: 362
Reviewed by: Gigi
Heat Level: 5 flames out of 5
Rating: 5 stars out of 5
Blurb:

Laurence Dalziel is worn down and washed up, and for him, the BDSM scene is all played out. Six years on from his last relationship, he's pushing forty and tired of going through the motions of submission.

Then he meets Toby Finch. Nineteen years old. Fearless, fierce, and vulnerable. Everything Laurie can't remember being.

Toby doesn't know who he wants to be or what he wants to do. But he knows, with all the certainty of youth, that he wants Laurie. He wants him on his knees. He wants to make him hurt, he wants to make him beg, he wants to make him fall in love.

The problem is, while Laurie will surrender his body, he won't surrender his heart. Because Toby is too young, too intense, too easy to hurt. And what they have—no matter how right it feels—can't last. It can't mean anything.

It can't be real.
Folks attracted to this book enough to read reviews are most likely looking for a hot and steamy BDSM romp. And, boy do you get it here! Hotter and steamier than any BDSM book I've read in years! But what will surprise most of you is that behind all this glorious pain and submission is an absolutely beautiful love story. For Real is a M/M romance which just so happens to include characters that enjoy a D/s relationship.
Laurie Dalziel is a 37 year old trauma doctor still pining for a relationship that was over more than 6 years ago. Laurie and his ex Robert shared a D/s bond for 12 years and Laurie was happy and in love. When the relationship ended (the reason behind the break-up is a bit of a spoiler, so I'll let you discover that for yourself) Laurie was terribly upset and he continues to mourn that loss. (You will see Robert's name pop up constantly while reading this book. It does get a little annoying, especially when he is speaking with Toby, but I believe that Laurie does not miss Robert, the man, but the connection they shared.) To help ease some of the loneliness, Laurie does engage in one-night-stands, but he has been unable to find someone he trusts enough to enjoy his submissive tendencies.
Toby Finch is a 19 year old cook at a greasy spoon diner. He knows he is gay but he feels his sexuality is different from his peers. He likes to dream of hurting another man for pleasure. To see if that kind of kink is really for him, he visits a BDSM club called Pervocracy, where he first meets Laurie. Laurie decides to help Toby figure out if his eagerness to dominate is a worthless predilection or if he really does have the power to dominate. He brings Toby home to share a scene and, of course, their chemistry is combustible.

The meat of the story is Laurie enjoying a D/s relationship with, while trying to keep emotionally detached from, Toby. Their vast age difference is a problem and he feels Toby has a lot of growing to do and life to see before he settles down with one person. Toby does everything in his play book to get Laurie to fall in love with him so they can start their HEA. There is super-hot melt-the-paint-off-the-walls sex, more angst than you can shake a stick at, sexual experimentation and bucket loads of passion. SO. MUCH. FUN!
One of the best ways for me personally to figure out if a book is right for me to read is to see what other people feel are similar books. I'm going to list a few, in case you still need convincing.
Toby reminded me of Darian from Alexis Hall's wonderful . I could not have loved him more. If you liked , you are going to love this book. If you liked the kink and depravity of and Uneven, you will find the same type on depravity and humiliation in this book. If you enjoyed the strong emotional connection between Corey and Sean in , Matthew and Kira from the series and Prophet and Tom from the series, you will love Toby and Laurie. The passion and emotion between the two men is spectacular.
I have given For Real the highest possible rating I can, which is 5 stars and a place on my Fuck Yeah, 5+ Stars shelf at GoodReads. This is one of the best books I have ever read and I look forward to re-reading it many, many times. HIGHLY RECOMMENDED!!