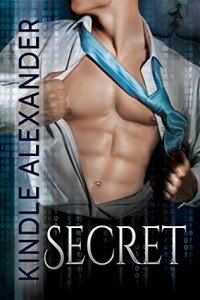 Title: Secret
Author: Kindle Alexander
Publisher: Self Published
Release Date: June 9, 2015
Genre(s): Contemporary/GFY
Page Count: 320
Reviewed by: Gigi
Heat Level: 3 flames out of 5
Rating: 2 stars out of 5
Blurb:

Tristan Wilder, self-made millionaire and devastatingly handsome CEO of Wilder-Nation is on the verge of a very lucrative buyout. With tough negotiations ahead, he's armed with his acquisition pitch, ready to launch the deal of a lifetime. There's just one glitch. The last thing he expects is to fall for the hot business owner he's trying to sway.

Dylan Reeves, computer science engineer and founder of the very successful social media site, Secret, is faced with a life-altering decision. A devoted family man with three kids and a wife, Dylan has been living a secret for years. Fiercely loyal to his convictions, his boundaries blur after meeting the striking owner of the corporation interested in acquiring his company. For the first time in his life, reckless desire consumes him when the gorgeous computer mogul makes an offer he can't refuse.
I hate when this happens and thankfully it doesn't happen often. This book is going on my Everyone Like it But Me shelf. I went back to read some reviews after I finished the book and the positive response for this book from my GoodRead friends is overwhelming. I'm glad for that, especially since I'm such a big fan of Kindle Alexander's books and have given all of them 4 and/or 5 stars. But this one did not work for me.
First off, since the blurb indicated that one of the main characters was married with children, I wanted to know if there was cheating involved before I started reading it. I'm not one who absolutely won't read a book with cheating (one of my favorite books of all time is Cameron Dane's ReneCade where cheating is a huge part of the plot) but I like to be prepared, especially since children were involved. I don't think it's a spoiler to tell you that there was no cheating here. Dylan and his wife Teri are together only for their kids and Teri is actually involved in a two year relationship with another man when Dylan meets Tristan.
So, we have a deeply closeted man, Dylan Reeves, who is the creator of a social media app that all the big name companies what to acquire. He and his team travel to California to meet with the team at Wilder-Nation (described as a Google clone) and start negotiations to sell them Secret, the app that has millions of users. Tristan Wilder wants to acquire Secret at all costs after his own company's foray into the social media business has failed spectacularly. When Dylan and Tristan meet, there is an immediate attraction, but it thankfully isn't insta-lovey where they felt the need to rip each others clothes off in the stairwell. But we do hear both men's inner monologues and the attraction is there and mutual.
After Tristan and his team give Dylan and his team a tour of the Wilder-Nation facilities, they take them out to wine and dine them and even visit a titty bar. Tristan can see that Dylan is uncomfortable and suggests the two of them leave the group and visit another establishment that would be more to their liking. This is where my problem with Tristan starts. Tristan is all promises to Dylan that he won't force him to do anything he doesn't want to do.
"We don't HAVE to go to the gentleman's club if you are uncomfortable. We don't HAVE to dance if you don't want to. You don't HAVE to drink this tenth 7&7 to loosen you up. You don't HAVE to let me suck your cock. You don't HAVE to fuck me, especially since it will be your first time with a man, you are wasted and you haven't had sex in 19 years."


See a pattern here? And all that is in the first night! I felt that Tristan was pushy and had his own best interests in mind from the start. The next day, he finds he is SO enamored with Dylan that he offers the Secret team 20% more then their asking price and all the stipulations they were asking for. On one condition: That Dylan agree to drive with him at sunset in his Ferrari and have a picnic on the beach.
The story continues with Dylan being apprehensive in his new relationship with Tristan (some reviews I read had readers annoyed with Dylan and his closeted ways, but I felt his feelings were warranted given the circumstances) and Tristan doing everything in his power to start a relationship. Flowers, Ferrari's, private dinners with Wolfgang Puck as their chef, elaborate hotel rooms, etc.
Yes, the boys do eventually get their HEA and all family members come to grips (incredibly quickly, if you ask me) with the changes in status and Secret is an astounding success. The end.
Tristan was just too relentless in his pursuit of Dylan and it kept me on edge throughout the entire book. I wasn't able to enjoy any of the sex because it felt just a touch dirty to me given Dylan's inexperience and Tristan's pushy tendencies. I personally can't recommend this one, but for my one negative review, there are 60+ positive reviews so YMMV. Either way, I do hope enjoy!

 Author Link GoodReads